This article is more than 1 year old
Creative ZiiSound D5 wireless speakers
iOS-friendly Bluetooth music box
Having used the iPod's standard Bluetooth option, the next step was to see if the BT-D5 transmitter and apt-X codec made any difference to the audio quality. I fired up some old Queen songs to check out the multi-layered harmonies and the audio quality definitely improved when using the transmitter, producing a fuller sound with greater detail noticeable on both the higher and lower frequencies.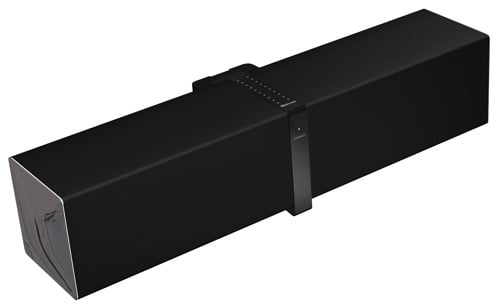 Apt-X codec makes an audible difference if you want to get serious about Bluetooth streaming
Furthermore, as Apple's implementation of Bluetooth doesn't support the AVRCP protocol, using the separate transmitter also allows you to control the speaker volume too – something that you can't do using the native Bluetooth support in the iPod/iPad/iPhone. One last little touch is the fact that the BT-D5 transmitter can slot into a panel on the back of the speakers, allowing it to act like a conventional dock for the iPhone or iPod (but not the much larger and heavier iPad).
Verdict
With a price tag erring towards £300, it's clear that you're paying a premium for the convenience of Bluetooth wireless technology. However, there's no doubt that the ZiiSound D5 is one of the best Bluetooth speaker systems I've ever heard – especially when used with the additional apt-X transmitter. So if you specifically want a wireless music system for use at home or outdoors then the D5 is about as good as you'll get at the moment. ®
More Wireless Audio Gear Reviews...

Logitech
Squeezebox Touch
Sonos
ZonePlayer S5
Voiis
Bluetooth
music streamer
Sennheiser
RS 160

Creative ZiiSound D5 wireless speakers
An impressive – but expensive - Bluetooth speaker system that will particularly appeal to iPod/iPhone users.