This article is more than 1 year old
iPhone mag-stripe reader stalled
$10m not enough to change world
Square, the breakthrough business launched by twitter-founder Jack Dorsey, won't be shipping as scheduled. It seems that taking credit card payments is more complicated than anticipated.
Square was launched last December and scheduled to be in users' hands by "early 2010", but the company has admitted that it "released parts of Square before they were fully baked" and that those at the company "let our excitement get the better of us". So now we just don't know when we'll finally be able to accept credit card payments using an iPhone, unless we use one of the various alternatives already available.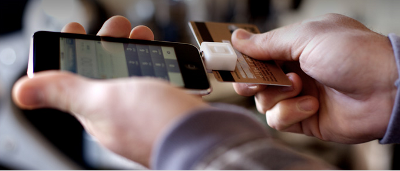 Here's hoping the industry never moves away from magnetic stripes
Last December we pointed out that Square was just a magnetic-stripe reader, and that there were a dozen credit card-processing applications on the iPhone, but that didn't stop venture capitalists pouring $10m into the company.
Much of that money has been spent refining the hardware, hopefully into something a little more robust, but the real complexity has been underwriting the security of a system that promised to allow Uncle Tom Cobley and all to accept credit card payments.
"The way we are handling the risk of chargebacks and fraud is through transaction limits, but we have received feedback that those limits are too low. We are rethinking and expanding our underwriting infrastructure to address this issue" says the company in an open letter.
So it turns out that reading the number isn't the hardest part of accepting a credit card payment after all. There's no new schedule for Square, but we're sure that this is just a stumbling block and any day now we'll be balancing plastic cubes on our iPhones and taking credit card payments hand over fist– unless NFC gets there first. ®