This article is more than 1 year old
Apple iOS 4 update frustrates iPhone 3G owners
Our upgrade did not go smoothly - and we're not alone
Updated Unsurprisingly, there are reports of woes among iPhone users when upgrading to iOS 4 and we even have first hand experience of this here at Reg Hardware. On a 3GS, the upgrade was the "easiest yet" for our esteemed leader, yet in the foothills, there's a rather sickly 16GB iPhone 3G that won't run any of third party apps or sync up with iTunes media.

Unhelpfully cryptic iTunes alert during an iOS 4 upgrade
While there are various error codes being quoted among the disenchanted, the problem in this case is an iTunes error -34. This alert appeared during the final fence aspect of the upgrade that deals with resyncing user data on top of the freshly served iOS 4 phone. The sync fails, you get the error code and the option to try and fail again. Up to that point, the upgrade seems to have gone through the motions as planned.
In this instance, trying the main restore nuclear option – that follows up with a user data restore choice – had mixed results. The error -34 appeared as before, but much later, and Contacts, Mail accounts, Safari bookmarks and Notes were present.
It was possible to sync third party apps too, but none of them work – they spring open and quit, only the default Apple apps function. Music too, fails to sync with error details saying that the files do not exist and that the iTunes library file is incorrect.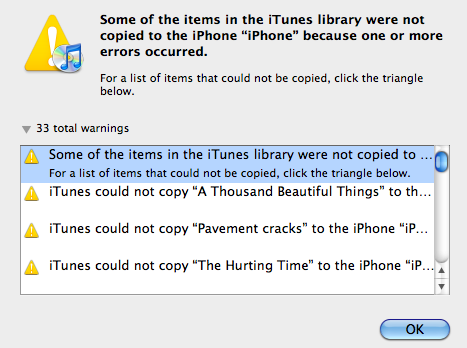 Media sync fails and clicking on a track will report 'File does not exist'
Other users have reported the error -34 problem, yet the Apple discussion forum is strangely quiet on any solutions to this particular issue.
With over 1GB free before the upgrade on our iPhone 3G, it seems unlikely that a lack of storage space was the issue as some have suggested. The upshot of all this is an iPhone that, goddammit, works as a phone… with some Interweb love thrown in. The tinkering continues...
Bootnote
Despite misgivings regarding the meaning of the cryptic -34 error, a lack of space did appear to be the issue. However, as pointed out in comments to this piece, it was most likely due to the iTunes option to 'Convert higher bitrate songs to 128kbps AAC' having become disabled during the process. This caused the user data resync to fail and troubles began with incomplete restores dogging the upgrade even when this option was re-enabled.
So, another approach was needed. Right clicking on the iPhone icon on the left pane in iTunes brings up an option to restore from earlier backups. The 3GS flew through this process and so resyncing the iTunes media was next. Initially, an incomplete restore alert did pop up (and was ignored, as the restore process was still progressing nicely), but thankfully, no -34 error message appeared as before. More than two hours later, the media was restored and all the third party apps were working. Now, to feed those Angry Birds... ®