Apple tweaks privacy policy to juice location tracking
Your whereabouts shared with 'partners and licensees'
---
Apple has updated its privacy policy to allow the company, its partners, and its licensees to keep close watch on your "precise location data."
These new observational powers are detailed in both Cupertino's overall Privacy Policy and the Terms and Conditions to which you must agree before purchasing or downloading items from the iTunes Store and App Store. Both documents contain identical language under the heading of "Location-Based Services":
To provide location-based services on Apple products, Apple and our partners and licensees may collect, use, and share precise location data, including the real-time geographic location of your Apple computer or device. This location data is collected anonymously in a form that does not personally identify you and is used by Apple and our partners and licensees to provide and improve location-based products and services. For example, we may share geographic location with application providers when you opt in to their location services.

Some location-based services offered by Apple, such as the MobileMe "Find My iPhone" feature, require your personal information for the feature to work.
Note that the new powers aren't reserved for merely Apple, but also for the company's "partners and licensees," and that Apple and its designees can also "share" it — although precisely how it might be shared isn't spelled out.
Note also that although Apple says that your location-based info is "collected anonymously", nowhere does it mention exactly how it defines "anonymous", nor does it say how long it stores your location data.
Location-based services, of course, are already standard fare on the iPhone. Google's eponymous iPhone search app, Maps app, and mobile-specific webpage, for example, have been helping us find pizza in San Francisco for quite some time.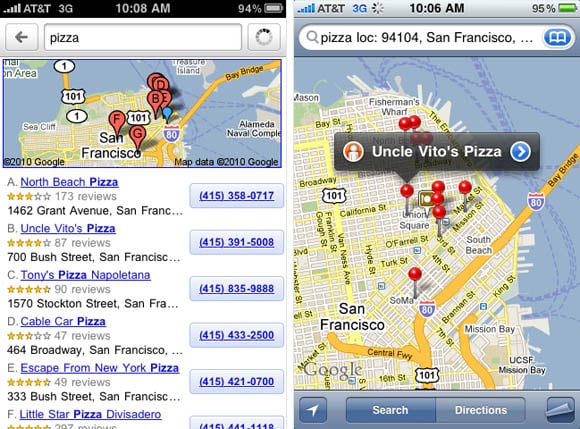 Google's iPhone search and Maps apps offer location-based results
Apple has also been deeply interested in location-based services. For example, it has released a flurry of location-based patents, including ones relating to app and ad serving, interface elements, and more.
Earlier this year, Apple issued an edict that barred developers from including location-based ads in their apps. At that time, we averred that the company wasn't simply working to keep ads from junking up third-party apps, but more likely paving the way for Cupertinian control of location-based ad serving.
And perhaps the more-specific location-based language in Apple's Privacy Policy and iTunes Terms and Conditions is just that: a framework to bolster Apple's iAds mobile advertising scheme, scheduled for launch on July 1, and to enable Apple to seamlessly share "precise" location-based user information with its partners and licensees so that they can offer you precisely targeted ads, coupons, and other commercial inducements through the iAds service.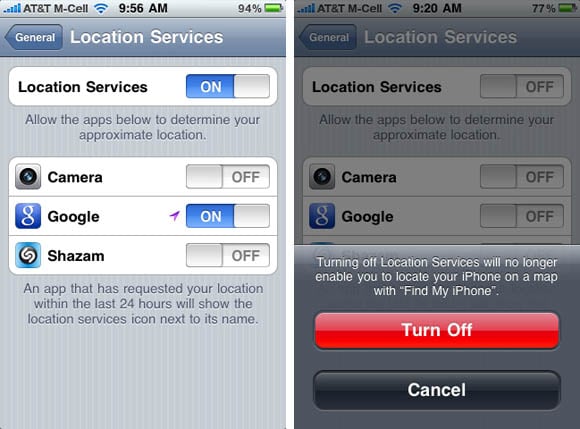 Turn off Location Services per app or globally in the iPhone's Settings utility
You can turn off Location Services either globally or on an app-by-app basis in the iPhone's Settings > General > Location Services pane, but Apple, one assumes, would prefer that you leave it on. When you chose to turn it off, for example, Apple reminds you that if you do so you won't be able to use their nifty Find My iPhone feature to track down your precious Cupertinian mobile device if it has been lost or pilfered.
And you also won't be able to have your location-based data shared with Apple's partners and licensees, who really would like you to know that their pizza is right around the corner — and they'd love to send you a discount coupon. Just tap on the advert and enjoy. ®