The wags down at ThinkGeek have found themselves on the receiving end of the "best-ever cease and desist letter", after seriously treading on the National Pork Board's trotters.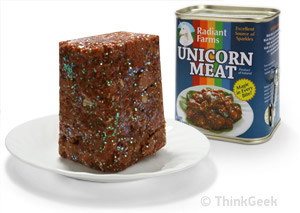 ThinkGeek's offence was committed in the marketing of its quite remarkable Canned Unicorn Meat, a truly magical product launched on 1 April and described as "the new white meat".
This didn't go down too well with the NPB, who considered the slogan a serious infringement of its description of pork as "The Other White Meat". Cue a 12-page missive suggesting ThinkGeek might like to rethink its strategy.
The site wisely decided to avoid a serious legal slapping, and issued an apology (pdf). Scott Kauffman, Geeknet prez and CEO, said: "It was never our intention to cause a national crisis and misguide American citizens regarding the differences between the pig and the unicorn. In fact, ThinkGeek's canned unicorn meat is sparkly, a bit red, and not approved by any government entity."
ThinkGeek has more on this porcine silliness right here. ®