This article is more than 1 year old
HP embiggens ProLiant x64 server line
Racks, blades, and the promise of more
4P tax break
AMD is not kidding when it said it removed the 4P tax with the Magny-Cours chips. It will be very interesting to see two fully-loaded DL58X G7 machines run the same benchmarks so we can reckon relative price/performance on the Xeon 7500 and Opteron 6100 versions of the platform. Right now, AMD is cleaning Intel's clock on pricing and Intel is winning on memory scalability and probably bottom line profit.
The Xeon 7500-based ProLiant DL980 G7 is the new high-end Xeon box for HP, since the Opteron 6100s poop out at four sockets using AMD's chipsets. The machine is exactly what El Reg told you it would be, and that is basically two DL580s doubled up and talking across Intel's "Boxboro" 7500 chipset to make an eight-socket server with 128 memory slots and topping out at 2 TB of main memory. The machine does not have twice the number of peripheral slots and networking ports, however. It has the same base five slots and 11 expanded slots as the DL58X machines above and the same eight disk bays.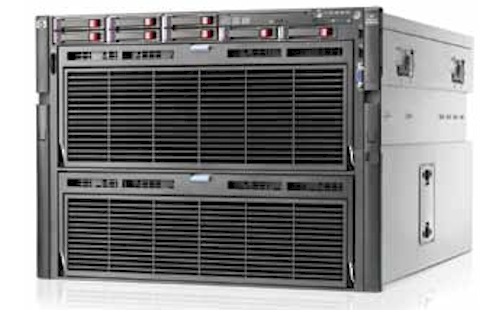 The HP ProLiant DL980 G7: Big iron, by a lot of measures.
HP is only supporting two standard Nehalem-EX processors in the DL980 G7, which is a bit perplexing. That includes the 2.26 GHz, eight-core X7560 and the 1.86 GHz, four-core E7250. HP is also allowing customers to use the 2 GHz, eight-core X6550 and 2 GHz, six-core E6540. These latter 6500-series Xeons are aimed at HPC shops and only two of them can be put into a single system image. Again, you don't find these things out until after the HP executive has departed, so there is no obvious explanation, unless you think it makes sense to have a two-processor supercomputer cluster node with 1 TB or 2 TB of memory.
Unlike the four-socket ProLiant DL58X G7 boxes above, the DL980 G7 is not shipping now and pricing information is not available. It will be available "in the coming months."
According to Ganthier, the roll-out of blade servers this year represents the biggest refresh that HP has done since the BladeSystem c-Class chassis and related ProLiant BL blades first made their debut four years ago. But for all the noise today at HP Tech Forum, there are no Xeon 7500 or 6500 blade servers and the two blade servers that are shipping are based on AMD's Opterons. The remaining blades are given names, a few sentences in press releases. The feeds and speeds are not out for them because they are not shipping until the second half of the year.
The ProLiant BL465c G7 is a two-socket, half-height blade server that uses the Opteron 6100s. Which ones? The data sheet doesn't say. But the information I have seen from other sources says that both eight-core and twelve-core processors will be supported in this blade. The BL465c G7 has sixteen memory slots, supporting up to 256 GB of DDR3 memory using 16 GB sticks. The blade, as you can see from the picture below, has two hot-plug disk bays in which you can slide 2.5-inch SATA, SAS, or SSD units. The blade, like all of the blades announced this year from HP except for the double-stuffed BL2x220c G7 (which has on-board InfiniBand ports) will have a dual-port FlexFabric 10 Gigabit adapter on the blade. The blade also has a Smart Array P410i/1 GB disk controller and two mezzanine-style PCI-Express 2.0 x8 peripheral slots.
With a single Opteron 6128 HE (eight cores, running at 2 GHz), the BL465c G7 with 8 GB of memory and no disk or operating system costs $3,079. With a twelve-core Opteron 6174 (2.2 GHz) and 8 GB of memory, this blade costs $3,929.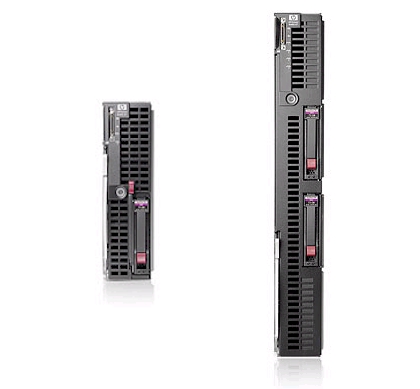 One short two-socket and one tall four-socket ProLiant Opteron 6100 blade server.
The ProLiant BL685c G7 blade server doubles up the Opteron 6100 blade to a four-socket, full height blade with room for 32 DDR3 memory slots and a maximum capacity of 512 GB using 16 GB sticks. (Again, the precise processors supported are not in the spec sheets). The blade has two disk bays and two of the dual-port FlexFabric 10 Gigabit Ethernet controllers. The BL685c G7 has the Smart Array P410i/1 GB disk controller and three mezzanine-style PCI-Express 2.0 x8 peripheral slots.
With four of the 2.4 GHz Opteron 6136 processors (eight cores per socket) and 32 GB of memory, the ProLiant BL685c G7 blade costs $10,268. Jumping up to the twelve-core Opteron 6174s running at 2.2 GHz and boosting memory to 64 GB drives the price up to $14,668.
Generally speaking, HP says that the BL465c and B:685c G7 servers are 30 per cent less costly in their base configurations than the prior Opteron 2400 and 8400 machines they replace. A lot of that price reduction is coming out of AMD's hide – and intentionally, so as the company attempts to make it up in volume in the server racket.
Five more blades in the second half
In addition to these four shipping rack and blade machines and the not-yet-shipping ProLiant DL980 rack box mentioned above, HP talked briefly about five more machines. The BL460c G7 is a kicker to what HP called "the world's best selling blade server" and the BL490c G7 is being billed as "the world's first virtualization blade." HP didn't say much else about these, but it doesn't take a genius to figure out, based on HP's prior products and naming schemes, that these will be half-height two-socket Xeon 5600 servers. What makes the BL490c special built for virtualization, we'll just have to wait and see.
HP doesn't have Xeon 7500-based blade servers in the field, so I am going to guess that the ProLiant BL680c G7 will be a full-height, four-socket blade using these chips from Intel. What HP has said about the BL680c G7 is that it will support 1 TB of memory per server, and that means it cannot be a Xeon 5600 box, which can only address 192 GB across its two sockets. If HP had 64 DDR3 memory slots on the BL680c G7 – which arguably sounds like a lot – that gives you 1 TB of memory capacity using fat 16 GB sticks. To do this would almost certainly require a double-wide blade, or perhaps two skinny blade that snap together as HP is doing with its Integrity BL860c i2 (two sockets), BL870c i2 (four sockets), and BL890c i2 (eight sockets) Itanium 9300-based blades.
There is another blade coming called the BL620c, and it is reasonable to guess that this is a low-end Nehalem-EX blade, perhaps supporting both generic Xeon 7500 processors and the Xeon 6500 HPC variant.
Finally, the BL2x220c is a half-height, double-stuffed two-socket Xeon 5600 server that HP is putting InfiniBand links on instead of its FlexFabric 10 Gigabit Ethernet links. Other details of this machine were not divulged today. ®