Poker money and the ethics professor
Gaming the Commons
---
What does an ethics professor do when a self-confessed felon bankrolls his favourite causes? Give the money back? Turn it into a case study for his students? We may soon find out.
The professor is the director of Edmond J Safra Foundation Center for Ethics at Harvard, and he's no ordinary professor. It's Lawrence Lessig, the copyright activist turned crusader for political transparency, and scourge of corporate lobbying. So the extent to which gambling interests have supported two of Lessig's favourite causes may be one of the strangest stories you have never read.
In Fall 2006 the United States passed the Unlawful Internet Gambling Enforcement Act, which made it illegal to take bets from the USA. It effectively put the world's largest gaming market out of reach for online gambling companies. As well as traditional casino operations, the legislation affected the the burgeoning internet poker industry - the fastest-growing sector of internet commerce.
The gaming industry, worth $12bn a year, pushed back hard, and lobby money started to appear in the oddest places. One destination was iCommons, the for-profit offshoot of Lessig's Creative Commons registered in London, which describes itself as "a project-based incubator organization".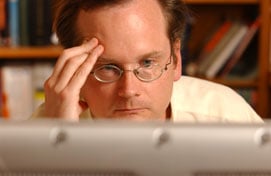 Lessig
Shortly after the gaming legislation was passed, iCommons received three large donations. Two were from newly-formed and secretive offshore trusts, the while the third was from the founder of PartyGaming, Russ DeLeon.
The first of the trusts was called IETSI, the International Electronic Trade and Services Initiative (IETSI) which made a substantial $1m donation to iCommons. IETSI describes itself as promoting e-commerce regulation, operating under Manx regulation, with a website registered in Gibraltar. But who was it a lobbying vehicle for? On its website, in addition to the Lessig vehicles its only other declared affiliation is with the Remote Gambling Association, the voice of online gambling.
The other donation was from the Kasuma Trust, a Gibraltar-based charitable trust devoted to at-risk children, educational work… and internet initiatives. Kasuma was set up by Anurag Dikshit and Soma Pujari in early 2007.
The first of those two names may ring a bell.
Today, Dikshit is one of the richest people in the world, after co-founding PartyGaming plc in 1997, which originally offered roulette and blackjack software written by Dikshit, but switched to poker in 2000. PartyPoker.com quickly became the largest and most lucrative online poker site.
Dikshit was employed by Ruth Parasol, the former 'porn princess' who co-founded internet porn pioneers Internet Entertainment Group with Seth Warshavsky. IEG routinely overbilled its customers, former employees allege. (Its CTO provided an affadvit testifying he was asked to program the billing systems to overcharge.) Today, Parasol is married to PartyGaming boss Russ DeLeon.
In December 2008 Diskhit confessed to being guilty of Wire Act offences, and negotiated a staggering $300m fine to the US authorities. This January, he sold his remaining stake in PartyGaming. The two-year jail sentence theoretically hangs over him.
The million-dollar donation was substantial, effectively giving iCommons financial security for five years. This is confirmed in the regulatory filings of Creative Commons, which declared that iCommons had "secured sufficient independent funding to be spun off as an independent organization".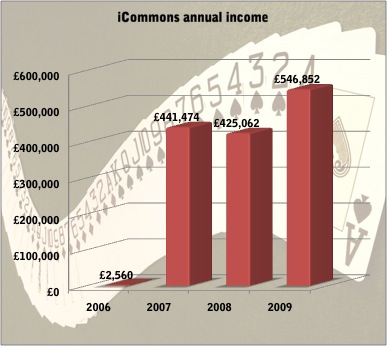 Poker money helped get iCommons off the ground
Source: Company House
So the poker industry had been kind to Lessig. What did they get in return?
Enter Charlie Nesson.