Opera has unleashed a minor point upgrades for the Windows and Mac versions of its web browser - so minor it didn't merit a press release. But the 10.54 release fixes five security holes, four of which Opera won't fully disclose, but are rated "extremely severe", "highly severe", "moderately severe" and… "less severe".
This sounds very scary. But what are they? Go on, Opera - give us a clue.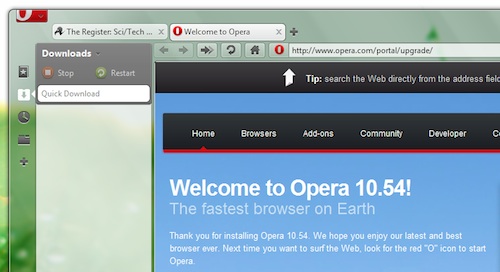 Opera 10.54 with a transparent skin
In addition the Mac version receives a number of stability and UI issues, including the annoying "not releasing a mouse click when making selection from drop-down", problems with pop-ups grabbing the focus, and MacBook trackpad on speed.
Opera 10.53 for the Mac wasn't the company's finest hour. While the Windows cut seems stable, your reporter reverted back to 10.10 on the Mac, as it was bombing so often. Opera says what it calls "premature shutdowns" invoked by closing a window, loading system frameworks, and other causes have been fixed.
Mac 10.6 seems much better, although if you're a Mail user, it won't play nicely with your old mail store. ®