This article is more than 1 year old
Samsung Wave smartphone
Is the new Bada OS worth splashing out for?
Review Samsung is one of those manufacturers that seems to grind out decent, capable handsets with great frequency, yet few of its many iterations tend to stick in the memory, or appear to set the pace.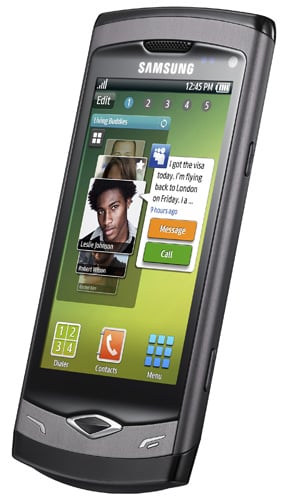 Samsung's Wave: New OS, but revamped TouchWiz UI
Yet with the Wave, Samsung hopes to change all that. The Korean company appears to have thrown all its technical know-how and expertise behind the Wave to create a premium handset that's like no other, with its own unique operating system, super-sharp OLED screen, fast 1GHz processor, app store, A-GPS, 5Mp camera and more.
The Samsung Wave is quite the looker too. Very slim at 11mm (and 118 x 56mm, since you ask), its metal body screams quality build, plus the plastic top and tail allow the aerial to operate without interference. The touchscreen takes up almost all of the real estate on the front of the handset, with just call start and stop buttons and a raised menu button below it. The sides are equally sparse, with a volume rocker on the left, and camera shutter and screen lock buttons on the right.
On top are a loudspeaker and 3.5mm headphone jack, plus a micro USB socket hidden behind a sliding cover. On the back are the camera lens and LED flash, both of which feature the same diamond-shape styling as the menu button. Yet it lacks a back button, which proved to be a bit irritating though, and not very intuitive when it comes to navigating the menus.
The large 3.3in Super AMOLED screen promises 16 million colours and is as sharp and clear as you could wish for. It offers a 480 x 800-pixel WVGA resolution and if the numbers sound impressive, it's even better in the flesh. It's capacitive too, supports multi-touch, and proved to be nicely sensitive to all my brushes and pushes – everything a touchscreen should be, in other words.

Fairly slim and solidly built
Probably the most surprising aspect of the Wave is the fact that it's sporting a new OS, which Samsung calls 'Bada' – it means 'ocean' in Korean, apparently. With the long-established Symbian and Windows Mobile seemingly reeling from the assault of Android, launching a brand-new OS looks like a recipe for trouble.