This article is more than 1 year old
Samsung Wave smartphone
Is the new Bada OS worth splashing out for?
There is method in the madness however. In time, Samsung plans to convert all its handsets to Bada, effectively turning them all into potential smart phones. The idea is that they'll all have the capacity to access Samsung's app store, no matter what their price point. It's not a soft launch either, with Samsung claiming that it plans to ship 6 million Bada handsets this year.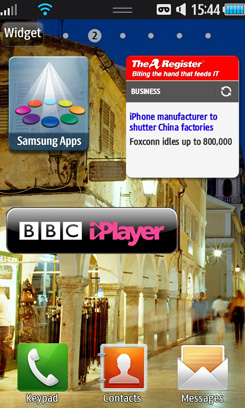 There's even an El Reg widget on offer
Using the Wave, you could be forgiven for not really noticing the new OS, since it's cloaked in Samsung's familiar TouchWiz interface. It's not quite the TouchWiz of old, however, as this is the first handset to feature TouchWiz 3.0, which alters the look and adds some additional features. Widgets now appear in a menu at the bottom of the screen called up from a small button, rather than a flap at the side, and contain more detail and functionality.
There are three home screens that can be adorned with TouchWiz widgets, including one specially made for El Reg – thanks Samsung. If you run out of space, the handset will automatically add another home page, up to a total of ten. Oddly though, if you decide to downsize the amount of widgets you're using, the extra home pages will stay, even if they're blank.
The menu button brings up three pages of apps, which you can add to from the Samsung Apps store. You can arrange them in whatever order you like, which is one up on Windows, but there's no option to add them to the widgets on your various home pages, which seems like a very big trick missed. The interface has a nifty way of notifying you of missed calls and messages too, with a missing jigsaw piece that pulls itself out of your homepage to let you know something's waiting.
There's an Android-style drop-down menu from any page, which shows your Wi-Fi and Bluetooth status as well as notifications. You can set double tap as an option too and bring up a comprehensive search function (or set it for other functions) that allows you to scan the handset or the Internet.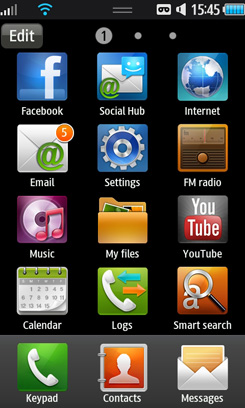 Double tapping brings up shortcuts to bypass navigating the menu listings
Running the show is Samsung's nippy 1GHz Hummingbird processor, assumed to be a close relative of that powering the iPad and iPhone 4, it certainly seems to do the trick. Indeed, I never noticed any serious lag when switching between applications, browsing the web or viewing video.