This article is more than 1 year old
Samsung Wave smartphone
Is the new Bada OS worth splashing out for?
Included in the menu is Social Hub, an attempt to integrate social networking functions into the handset. It works, but all it does is group your Facebook, Twitter, e-mail and text message functions on a single page – you'll need to open each function individually to access your updates, unlike Motorola's Motoblur or Sony Ericsson's TimeScape, which do a very good job of grouping all your updates together. You can pull all your contacts info in from your Facebook and Twitter accounts too, though the method of doing so can be a bit convoluted.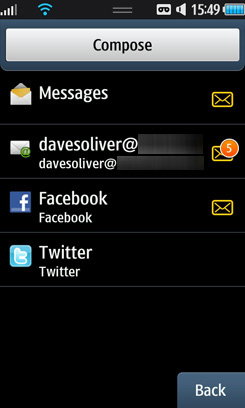 The Social Hub
Call quality is perfectly fine though, with the speaker going loud enough to make your caller heard even next to a busy road. There's video calling too but while there's the potential for the incoming picture to look really good on the OLED screen, in use it very much depends on the quality of the original video, and poor picture and signal mean that your pics will look as blocky and stilted as usual.
E-mail accounts are easy to set up, requiring just address and password in most cases. The onscreen Qwerty keyboard is a decent one too, with the smallish keys helped greatly by the sensitive touchscreen and useful tabs on the main keyboard such as @ and .com However, bizarrely, the keyboard seems to revert to an older, less user-friendly version in some contexts.
Internet access is fast using Wi-Fi broadband or HSDPA 3G (7.2Mbps) and the screen's multi-touch capability comes into its own when pinching to zoom web pages. Pages generally render well, and one touch brings up a menu allowing you to search, find bookmarks, view multiple pages, search text and filter out the images if you need to. It's intuitive to use but although it allegedly supports Flash video, we couldn't actually get it to play any. The YouTube app on board worked fine however.
Watching video downloads is a joy on the Wave's crisp screen. There are three options to expand the film to fit the frame of the screen and also three options to set the colour tone. The choices of warm, normal and cold just seem to heighten the red tones in the former, and the blue tones in the latter. Formats are well served too, with MPEG4, H.264, WMV as well as DivX and XviD all catered for.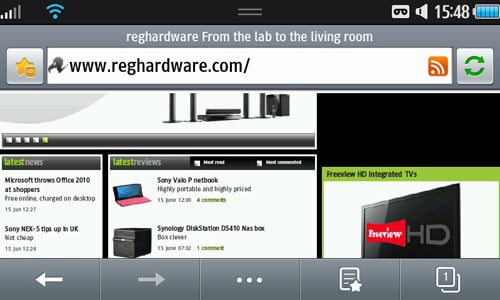 Browsing looks good, but Flash didn't work
The music player is nicely laid out, with a range of additional options appearing when you tap the screen, including virtual surround sound, shuffle and track info. MP3, AAC, WMA and WAV files all sound pretty good through the supplied headphones too, which include noise isolating grommets. If you need to upgrade, the 3.5mm headphone jack neatly located at the top of the phone is a boon. The FM radio with RDS worked well and you can record directly from it too.