This article is more than 1 year old
Viewsonic VEB620 e-Book reader
Monitor maker's word view
Review Given ViewSonic's penchant for monitors it might at first sight seem a little odd that its e-reader debut is to launch a pair of standard, 16 greyscale E-Ink devices, the VEB620 and VEB625, rather than going for colour. But E-Ink's displays are easy on the eye, deliver excellent battery life, and are less expensive to build than colour displays. So it is probably a sensible choice.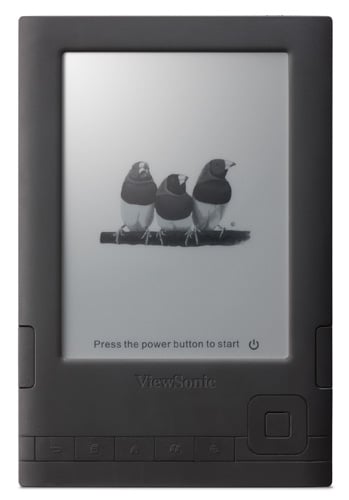 Brought to book: Viewsonic's VEB620
What is perhaps more interesting than the greyscale/colour debate is the fact that ViewSonic announced two products. They look almost identical, yet the more advanced model, the VEB625, incorporates Wi-Fi and a touch screen and won't be around until some time in July. Its price is not yet fixed either.
So what we have here is the VEB620. Neither the hardware design nor the innards match up to the last e-reader we reviewed, Bookeen's 2010 edition Cybook Opus. Yet the VEB620 is more expensive. OK, does have the additional feature over the Cybook of playing music, but frankly I'd use a separate player every time, so that's no real plus point in my book.
Coming in a choice of black or white, the chassis design is uninspiring, some would say dull. The plastic bodywork lacks panache, though it is very solid and I reckon it will absorb more knocks and drops without scratching than the aforementioned Cybook Opus would. It comes with a faux leather case which should help further with protection.
Weighing 220g without the cover you'll barely notice the ViewSonic VEB620 in your bag, though at 188mm x 126mm x 9.9mm it isn't going to fit into the average pocket. The 6in screen offers considerably less viewing area than paperback book. There are five font sizes available, though. A dedicated button pages through them in sequence or you can use the menu system to choose one in particular.

Slim, but not pocket-sized
I found a comfortable compromise between readability and the amount of text on a screen when reading e-books, but PDFs are a different story. At full page view PDF, text is generally too small to read comfortably. Increase the text size and you have to scroll around a page from left to right to see a full row of words. It is painstaking but, to be fair, no worse than I've experienced on a host of other e-readers.