Motorola has released its latest Android offering, the Droid X, and it's one chunky, funky monkey. Which is a good thing.
By chunky, we mean not only its size — big — but also all the tasty bits it contains: a snappy 1GHz TI OMAP3630 processor, hefty 1540 mAh battery, versatile 8-megapixel auto-focus camera with dual-LED flash, welcome HDMI port, convenient 8GB of built-in memory coupled with an SD card slot that take up to 32GB more, and enormous 4.3-inch display. More on "enormous" in a moment.
By funky, we mean that its camera set-up gives the Droid X a lumpy-forehead look. While the main body of the handset is more than acceptably thin, the bulky camera and flash unit require a heftier amount of space.
But if the quality of a smartphone's camera is important to you, you may forgive this lumpy shooter's bulgy housing. The camera captures not only 8-megapixel stills with touch-to-focus capability and "shutter" speeds of up to 1/1000th of a second, but also 720p HD video with noise cancellation and special effects such as slo-mo.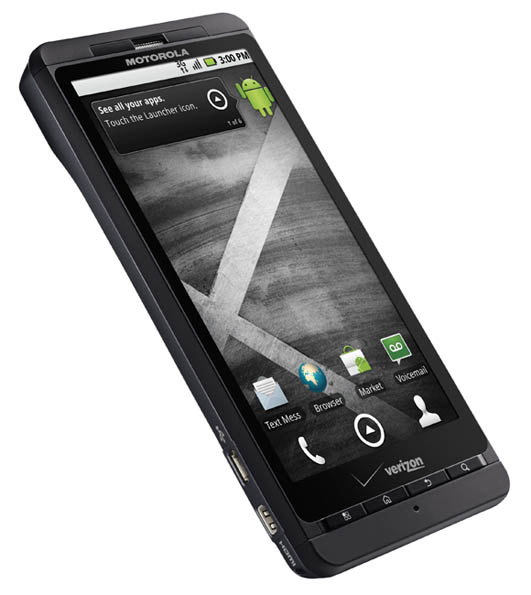 Motorola's new Droid X is full-sized and full-featured
But back to "enormous": the Droid X is one big phone — here's a quick comparison of the its specs compared with those of the currently top-of-mind iPhone 4:
Size Droid X: 5-by-2.6-by-0.4 inches; iPhone 4: 4.5-by-2.31-by-0.37 inches (127.5-by-65.5-by-9.9mm v. 115.2-by-58.6-by-9.3mm)
Weight Droid X: 5.47 ounces; iPhone 4: 4.8 ounces (155g v. 137g)
Display Droid X: 4.3 inches diagonal; iPhone 4: 3.5 inches diagonal (109.2mm v. 88.9mm)
Resolution Droid X: 854x480; iPhone 4: 960x640
It may seem picky to quibble about an half inch here and two-thirds of an ounce there, but more-petite phone fans may find the Droid X's bulk to be more than they'd want to shoulder — which may be one reason that Moto has positioned the Droid brand as being muy macho.

The 8-megapixel camera requires a bulky bulge — and, yes, that's an HDMI port on the right
But if you're buff enough to tote this phone around all day, it'll reward you with Android 2.1 (scheduled for upgrade to 2.2 in late summer), up to eight hours of talk time and over nine days of standby time, 3G HotSpot tethering capability, and the ability to run Adobe Flash Player 10.1.
Connecting to a wireless provider over CDMA 800/1900 and EV-DO Rev. A, the Droid X will be available in the US from Verizon beginning July 15 for $199.99 — although that price takes into account a $100 mail-in rebate and a new two-year contract.
And finally, if you're looking for the hardware keyboard of the original Droid, stop looking. It's gone — the Droid X is touchscreen-only. ®