This article is more than 1 year old
Ofcom opens Neutrality debate with 'hands off' warning
We've got enough daft laws already, thanks
Peanut butter and jelly sandwiches. Baseball. McCarthyism. Net neutrality. Not all US cultural exports succeed abroad, and the latter has landed with a dull thud in Europe. Ofcom today opened a consultation on net neutrality, but its preferred stance is likely to disappoint the Tin Foil Hat brigade of web activists who created and fomented the issue in the USA.
Ofcom stresses that not interfering can be the best form of regulation. And rather pointedly, it highlights anti-competition and consumer protection legislation that already exists in the UK. All of this doesn't mean ISPs and service providers are off the hook: they will have to do rather better at informing customers about traffic management than they do today.
That should be widely welcomed. UK broadband users are throttled, shaped and capped up the wazoo - and it's hard to tell just how and when these measures are being introduced. But so far, the debate has tipped into the hysterical, dogmatic extremes seen in the USA.
In setting out its position, the UK regulator will follow the framework set by Nellie Kroes, the former competition commissioner and now Digital Agenda Commissioner. In a speech last month Kroes said that competition was the consumer's best guardian against "bottlenecks and monopolistic gatekeepers", rather than technical regulation. She said the ISPs must be completely transparent in their traffic management practices. Ofcom agrees so vigorously heads may fall off.
"Ofcom's initial view is that a prohibition on network operators/ISPs charging content and applications providers for access to consumers is unlikely to lead to efficient market outcomes. In simple terms, it means that consumers have to bear all of the costs in a 'two sided market' in which content and applications providers clearly benefit from access to consumers as well as vice versa," observes the regulator, while reserving the right to monitor the big industry players for signs of competitive bottlenecks, ie, where operators are acting as a cartel to drive up prices.
The reason? The content market is in its infancy, and it's simply too early at this stage to say.
"Ofcom does not consider that there is a need for controlling future prices by network operators/ISPs and in particular setting them at zero seems difficult to justify, even if Ofcom had the power to impose such a pricing regime," it points out.
Being able to guarantee quality of service as a paid offering (both to content providers such as YouTube or the BBC, or to punters wishing to sign up to a service) is quite a good thing, it notes. If you don't want it, then don't pay.
(In early 2007 Google's Head of TV Technology said the web was rubbish for TV - predicting that "It's not going to offer the quality of service that consumers expect." )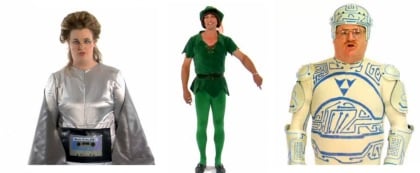 US net neutrality campaigners (from 2006)
Ofcom sums up the position like this.
Our initial analysis indicates that there is currently no strong case for an outright ex ante prohibition on all such discrimination. Regulatory intervention which focused exclusively on traffic management (prohibiting certain forms of traffic management) could have the unintended consequence of encouraging the development of closed networks and devices which evade any such ban.

However, the concerns highlighted in this section arose we would examine such instances on a case-by-case basis applying our full range of ex post powers as appropriate. If in the future evidence of more persistent and recurrent behaviour that could lead to consumer detriment emerged we could consider whether it would be appropriate to use our ex ante powers.
Steady as she goes, then.
The discussion paper can be downloaded here, and consultations are open until 9 September.
Net Neutrality advocates should honour the campaign's tradition by writing in ALL CAPITAL LETTERS with double exclamation marks!! for emphasis. For hand-delivered submissions, go dressed as The Tron Guy. ®