This article is more than 1 year old
Olympus PEN E-P2 Micro Four-Thirds camera
Optical extras
Review Not long after Olympus introduced it first Micro Four-Thirds camera, the PEN EP-1, a second in the digital PEN series appeared. While the PEN EP-2 is essentially the same as the PEN EP-1 reviewed last year, it does have some extra features to entice seasoned photographers to the fledgling Micro Four-Thirds format. With Register Hardware's review of the latest Olympus PEN, the PL-1 coming soon, a peek at the EP-2 seemed in order to see just what's on offer in this lookalike range.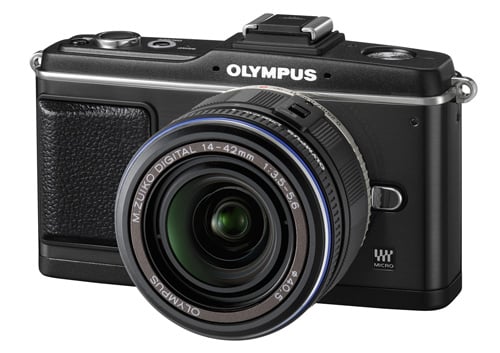 Olympus' PEN E-P2: enough to tempt the DSLR faithful?
Maintaining all the key features of its predecessor, the E-P2 shows off a new colour scheme and interesting additions: a hotshoe port for the electronic viewfinder or external microphone; AF tracking; additional Art filters; a new colour temperature enhancing system; remote slideshow control using HDMI and the ability to record videos in manual mode. The upgrade does not come cheap, as this incarnation currently sells for £300 more than the original E-P1, with the 14-42mm lens and the external EVF bundle priced at £899.
Paying tribute to the original 1959 Olympus Pen, the E-P2 has a wonderfully stylish and retro look with a new black metal finish. The lightweight and compact body feels very solid and handling is improved greatly by a leather-effect plastic handgrip on the left front of the camera.
The arrangement of the commands though is rather less accomplished. The silver Shooting Mode dial (Programme, i-Auto, Aperture Priority, Shutter Priority, Manual, Scene Mode) is recessed within the top plate and operated by a plastic wheel on the back that's a bit awkward to use as it doesn't really protrude enough. The other main command dials are a large vertical thumb wheel, used for zooming and changing menu items, and a navigation pad surrounded by a slim circular wheel.
The navpad works pretty well for accessing key options like AF, WB, ISO, but in Manual mode the combination of thumb and navigation wheel used to set the aperture and shutter speed is not intuitive and it allows for only one of the commands to be controlled at once. The more straightforward forefinger and thumb wheels found on most DSLR cameras might have been less elegant, but surely more functional. The other direct access buttons on the right of the LCD screen are also hard to reach while gripping the camera.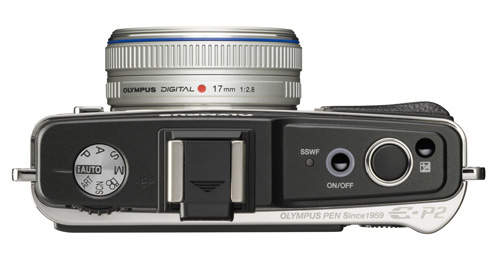 The hotshoe also mounts the VF-2 viewfinder attachment
The E-P2 offers the same 3in 230,000 pixels LCD panel found on the E-P1. Although it is bright and seems large on this body, manual focusing is a challenge, as this camera really would do with a higher resolution screen. The screen and the lack of viewfinder were responsible for most of the criticism addressed to the E-P1, as this model had only a £100 clip-on optical viewfinder to offer as an alternative.