Olympus PEN E-P2 Micro Four-Thirds camera
Optical extras
One of the main motivations behind the E-P2 upgrade is the provision of an electronic viewfinder (VF-2) that enables eye-level framing and complements the LCD display. The VF-2 has SVGA resolution, a magnification of 1.15x, a refresh rate of 60fps and offers a 100 per cent view. The VF-2 slots into the new accessory port on the back beneath the hot shoe that is now slightly raised compared to the E-P1's.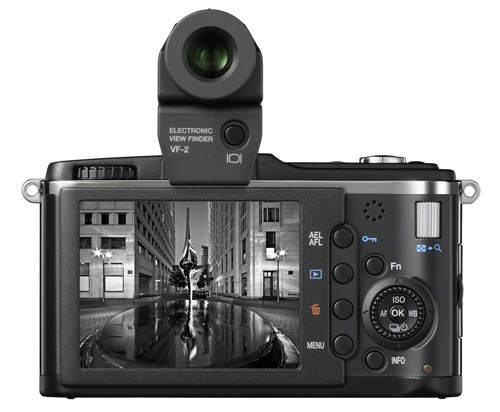 Optical viewfinder could swing it for some potential buyers
To my surprise I noticed very little difference between the VF-2 and an optical viewfinder and it could be just the trick to get DSLR users to consider a Micro Four-Thirds camera. In a further blink to professional photographers, the VF-2 is tiltable up to 90-degrees, so you can frame your images whilst holding the camera at waist level, as you would with a medium format models of old – although, thankfully, the image is not reversed.
This option gives you the advantage of being less conspicuous when taking street photographs and improves creativity by letting you discover unusual viewing angles. The only negative aspect of an externally mounted electronic viewfinder is that you can't use it in conjunction with the flash unit, which uses the same mounting. In addition it shortens battery life, which is otherwise quite good.
Another big step up from the previous PEN is the addition of an AF Tracking mode, inexplicably absent in the E-P1. It does a decent job of locking onto the subject and keeping it in focus as it moves within the frame. Generally, the autofocus performance – another sticky point of the E-P1 – seems improved. AF speed is not comparable to the phase detect focus systems used in DSLRs but it is more than acceptable. In general, the E-P2 is quite a fast performer and the TruePic V engine does an excellent job at processing images at high ISO.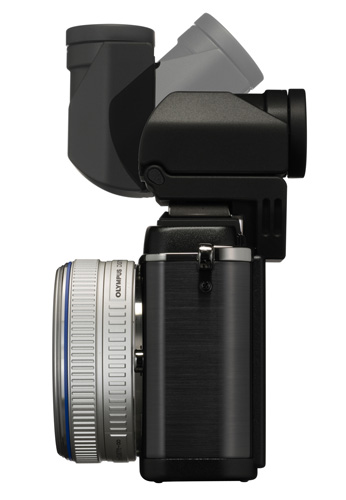 Articulating viewfinder is handy for surreptitious snapping
Also upgraded is the iAuto shooting mode that now includes iEnhance. In addition to automatically detecting a scene and selecting the right exposure, this new setting will provide the necessary colour and contrast corrections to enhance it.