Olympus PEN E-P2 Micro Four-Thirds camera
Optical extras
Olympus has further increased the E-P2's artistic capabilities by adding two new Art filters on top of the 6 already present in the E-P1 (Pop Art, Soft Focus, Pale and Light Colour, Light Tone, Grainy Film and Pin Hole). This new PEN now sports a diorama effect that imitates a tilt-shift lens and a cross-processsing effect simulating the result of developing a film in chemicals used for a different film type. The E-P2 applies the art effects before taking the picture so you can preview the results in Live View.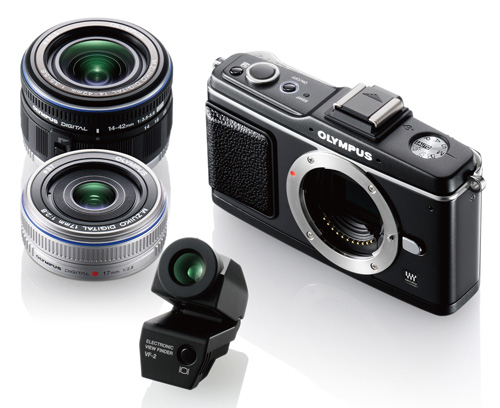 The VF-2 viewfinder is included in the price, lenses are extra
I'm a big fan of in-camera effects because they add to the fun of taking pictures and sometimes produce astonishing, unforeseen results. In this respect I loved experimenting with the E-P2 and really had a blast with the magnificent grainy film filter. This worked extremely well with black and white producing high grain and high contrast images in typical documentary style. The only whinge I have is that it takes an awfully long time for the camera to process the shot once a filter is applied, which seriously disrupts the creative experience.
The other major change made with this new PEN release is the addition of full manual capabilities in Movie Mode. The E-P2 records AVI format movies in 30fps 1280x720p HD resolution with extremely good stereo sound quality. Almost all features available to still photography are also accessible in movie mode, which makes for more imaginative movie making.
Unfortunately Olympus decided once more against providing the E-P2 with built-in flash. Olympus' argument is that most in-camera flashes are not powerful enough – yet curiously there is one on the new PL-1 – and that users can rely on the PEN high ISO settings for most available light situations.
While I don't deny that most built-in flashes do not compare with external flash units Olympus' argument is flawed in that it does not account for all the fill-in flash use that even a small, built-in unit can give. The lack of built-in flash is even more significant when the cheapest PEN flash system is the retro-styled Olympus FL-14 currently priced at £160.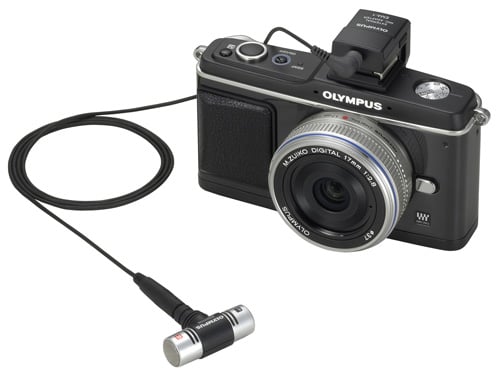 The external mic will set you back £100
The main advantage of buying into a Micro Four-Thirds system is the ability to use interchangeable lenses without the body bulk of a DSLR. The PEN has a decent range of dedicated quality optics and thanks to available adaptors many lenses from different manufacturers can also be mounted. I have tested the E-P2 with the M.ZUIKO DIGITAL ED 14-42mm F3.5-5.6. It's possibly one of the smallest and lightest interchangeable zoom lenses currently on the market and one of the better performing ones in its price category.