This article is more than 1 year old
It's boffins versus bookies on the World Cup Rankings
Tear up your sweepstakes ticket now
World Cup Stats After all the fun and upsets of the World Cup 2010 Group stage Holland are still favourites to win according to the Reg stats expert Dr Ian McHale of Salford University.
But a surprise addition to the top 3 is Uruguay – ranked 7th by the bookies, and not even in Dr McHale's rankings at the start of the tournament.
"I think they've got an easy run to the final," says the doc who ran 100,000 simulations last night to update his probability model.
Here's his rankings, with bookie rankings and probabilities for comparison.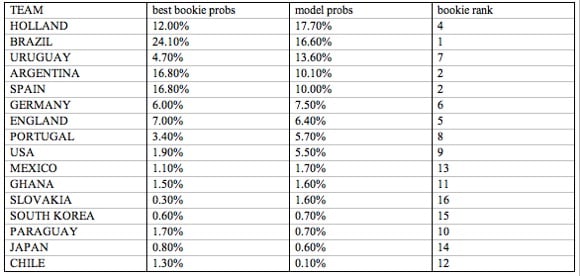 England and Germany look nice and close, with only the England fans' record for lumping money on their team giving them a boost to their bookie rank.
And though Dr McHale's stats say Holland (or Netherlands if you're a cloggy) come higher, he does feel they have a history of team discord as competitions progress which might hamper them.
Meanwhile, Reg friends Bettorlogic have been doing a bit of analysis and number crunching.
It ranked Uruguay 7 in the tournament, and they finished top of Group A after drawing their opener 0-0 with France before beating both hosts South Africa and Mexico to nil. Despite historic success in the World Cup, this is Uruguay's first appearance in the knock-out stages since 1990 when they were knocked out in the Last 16 by Italy. In all finals matches they have won eight of 17 games against teams with a Bettorlogic rank of 31-50 (today's opponent South Korea are ranked 34 by the firm) with two wins from three in knock-out fixtures.
Higher-ranked sides that have won their final two World Cup group stage matches have gone W6-D5-L3 in the last 16 and they have also qualified in four of the five games that were tied after 90 minutes.
 Betting wise Bettorlogic is recommending money on a 90 minute draw with Uruguay victorious in extra time. And for the record, and for all those Reg readers in the States, Bettorlogic said money on Ghana is the way to go. See separate article for a detailed look at England v Germany's history.
Dr McHale is Senior Lecturer in Statistics in the University of Salford. He and his team are also behind the Actim Index, which is the official ratings system of the English Premier League. This is an objective rating of players using official match statistics, not one based on subjective notions such as flair. It arguably is far superior, and not to be confused with, the Sky-linked Opta Index.
McHale's World Cup model uses an 'ordered probit' model (an ordered regression model stats fans) to estimate the probability of the three outcomes of a match - whether the result will be a win, a draw or a loss. You can mark his working out here in an article he wrote for the Institute of Engineering and Technology ahead of the tournament start.
His model only uses the results of the previous 9000 International games, the number of goals scored, and and location of game. Weighting comes from Fifa's database of team rankings. Things that favour a team are: if they're at home; or haven't travelled too far; are ranked higher than the opposition; if they're an improving team according to ranking; the seriousness of the game (friendly or major tournament - better teams take major tournaments more seriously); and if they've been winning recently. ®