This article is more than 1 year old
First MeeGo Linux needs love and scrub up
Fiddly, slow, but pleasing
Review MeeGo is a big deal. Devices plus cloud is the big trend right now and MeeGo has seen two industry giants - Intel and Nokia - combine efforts to create a Linux offering capable of competing with Windows on netbooks, Apple and Google on phones and tablets, and embedded operating systems on just about anything else from TVs to cars.
Despite the potential hype a first version of MeeGo should have received, version 1.0 experienced a relatively low-key release.
The reason was because MeeGo 1.0 is aimed at developers and device manufacturers - actual MeeGo netbooks are not expected until later this year.
Further, this MeeGo release is only for netbooks. MeeGo 1.1 for handhelds and other touch-based devices such as tablets is promised in October, though Nokia's Valtteri Halla has said that "a kind of pre-alpha release" of the handset software is set for June 30 Nokia has recently announced that its high-end N Series will move from Symbian to MeeGo in future editions.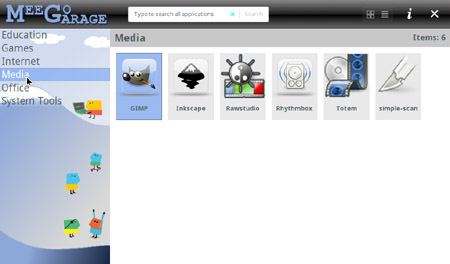 Install pre-configured applications with MeeGo Garage
Rather than a Linux distribution, MeeGo is a platform built on Linux. It offers a user interface built with Qt, a cross-platform GUI and application framework acquired by Nokia when it took over Trolltech in 2008, as well as a standard set of services for Internet, communications, media, graphics and data.
The developer story is based on Qt, though Adobe Flash and AIR will also be supported, and supposedly Microsoft's Silverlight though this aspect has gone strangely quiet since Intel and Microsoft announced it for Moblin in September 2009. There will be app stores including Intel's AppUp Center, Nokia's Ovi, and carrier-specific stores.
So how does it stack up? I installed MeeGo 1.0 on a Toshiba NB300 notebook with 2GB RAM, which is listed as a tested device. Pretty much everything worked, including Wi-Fi and the install was hassle-free.
That said, there are niggles. A cold boot takes just over two minutes, slow for a Linux netbook, and resume from sleep gives a blank screen with no way out other than power off. The trackpad works, but the irritating tap-to-click feature, which causes unexpected clicks, cannot be disabled through the GUI.
MeeGo's "Netbook UX" is based on a toolbar whose icons represent panels. The home panel is a kind of portal to current activities, showing current appointments and tasks, favourite applications, and status updates from social media sites such as Twitter and Facebook.