Oracle refreshes Sun Xeon server lineup
AMD not invited to the party
As El Reg has been telling you it would, Oracle revamp its x64 servers in June and Advanced Micro Devices was not invited to the announcement party.
In fact, there wasn't an announcement party at all, just two press releases and a webcast explaining the machines — the latter of which is still not available as we go to press. Apparently one of the ways that Oracle is going to get profits out of its Sun Microsystems unit is to not spend a lot of dough hosting server, storage, and networking launch events. Or to even make phone calls to let people know there's a webcast. Or to talk about the machines with people (like hacks who work at rags like El Reg) who are keenly interested in what Oracle has engineered and how its products are differentiated from the other boxes on the market.
To make it clear to everyone that the company is not interested in selling onesies and twosies of its x64-based servers, Oracle called the new machines its "next generation Sun Fire x86 clustered systems". In the wake of Oracle's closing of the acquisition of Sun in late January, the company said that it would focus its x64 server lineup on clusters — the kind that run Oracle's databases and applications as well as parallel supercomputers. And as El Reg reported back in May, Oracle executives were telling customers that they would be discontinuing Opteron-based servers and focusing exclusively on Xeon-based machines.
This is a big turnaround from Sun's master plan of embracing Opterons and then Xeons and trying to become a volume player in the server racket. Sun did good engineering on its Sun Fire line, which kicked off with the Opterons in 2005 and were only begrudgingly extended to Xeons in 2008 when it became clear that Sun was going to need Xeons to be a volume player.
It's clear that Sun did not make the cut as an x64 server volume player, and Oracle's way of focusing and streamlining the product line is probably the right strategy for 2010 — unless the Xeon roadmap hits a big bump again, giving AMD the kind of advantage it enjoyed from 2005 through 2007.
Oracle put two new machines into the field today, both of them based on Intel's high-end, eight-core "Nehalem EX" Xeon 7500 processors. Oracle also updated three of its rack servers and one of its blade servers as well as a storage blade and a two switch modules for its Sun Blade 6000 blade server chassis.
The Sun Fire X4470 is a four-socket machine in a 3U rack chassis that is based on the Intel "Boxboro" 7500 chipset and the Xeon 7500 processors that go along with them. The machine has 64 memory slots on a total of eight memory riser cards, and supports DDR3 memory modules in 2GB, 4GB, and 8GB capacities at the moment. That yields a maximum memory of 512GB for the whole machine, but this will double to 1TB once Oracle supports 16GB memory sticks — though the company did not say when this might be.
Like Sun Fire servers have done for years, the X4470 has four Gigabit Ethernet ports and one dedicated 10/100Mb management port. The X4470 has ten PCI-Express 2.0 peripheral slots: two x16 and two x4 slots, with a mix of x4 and x8 slots making up the remainder. The machine has six 2.5-inch disk slots in the front right side of the chassis, and customers can slot in SAS disks or SATA solid-state disks. The server also supports Oracle's Flash Accelerator F20 flash module, which plugs into a PCI-Express slot.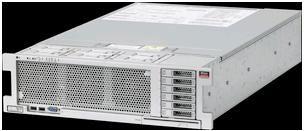 Oracle's Sun Fire X4470 server
The X4470 supports Oracle's own Solaris and Enterprise Linux operating systems and its Oracle VM variant of the Xen hypervisor. Microsoft's Windows Server, Red Hat's Enterprise Linux, and Novell's SUSE Linux Enterprise Server are also supported on the machine, as is VMware's ESX Server hypervisor. Oracle was not specific in its spec sheets about what versions and releases of its operating systems are certified to run on the X4470 server, but if you drill down into the tech documents, Solaris 10 Update 8 (also known as 10/09), Oracle Enterprise Linux 5.5, Oracle VM 2.2.1, Windows Server 2008 SP and R2, RHEL 5.5, SLES 11, and ESX Server or ESXi 4.0 Update 1 are supported on the machine.
The Sun Fire X4800 is the eight-socket Xeon 7500 machine in a 5U rack chassis, but it looks to be a bit more sophisticated engineering-wise than the X4470 — which is what you have come to expect from a high-end Sun server (I am thinking in particular of the uniboard design borrowed from the Sparc server lineup for the original top-end X4500 server from Sun a few years back.)
The X4800 doesn't have a uniboard design, with just one socket and its memory on a single board, but it comes close, with two-socket system boards based on the Xeon 7500 processor and the Boxboro chipset — which Oracle is calling CPU modules, or CMODs — making up the basic processing element of a machine that scales from four to eight sockets.
Conceptually, the X4800 looks like it is a baby blade server tipped on its side with the SMP electronics to lash the blades together into a single system image replacing the blade backplane. But again, Oracle didn't make executives available to talk about this or the possibility that this CMOD is a preview of sorts for two-socket Xeon 7500 blades.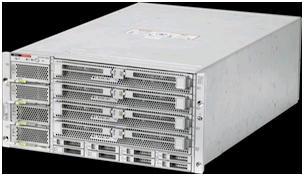 Oracle's Sun Fire 4800 server
Each CMOD in the Sun Fire X4800 server has two Xeon 7500 processor sockets and 32 memory slots. With all four CMODs installed and using 8GB DDR3 memory sticks, the machine can cram 1TB of memory into a single system image; this will double to 2TB when Oracle supports 16 GB sticks.
Like the Sun Blade 6000 chassis, the X4800 server uses network express modules (NEMs) and PCI Express modules (EM) units to add network and peripheral connectivity to the basic server elements. The X4800 can support two NEMs, which offer four Gigabit or four 10 Gigabit Ethernet ports each, and up to eight EMs, which have a single PCI Express 2.0 x8 slot. That's not a lot of I/O expansion, but it is probably more than enough network bandwidth.
The machine has four power supplies that run along the left side of the 5U chassis and eight 2.5-inch hot plug disk slots that run across the bottom of the chassis, underneath the CMODs.
Oracle is pitching this machine as "the ideal server to refresh inefficient and outdated HP Itanium and IBM Power servers." The X4800 runs the same mix of operating systems and server virtualization hypervisors as the Sun Fire X4470.
Precise processor SKUs supported in these machines, their availability, and their prices were not available from Oracle at press time.