However, movies look great thanks to the 17.3in screen's glossy coating. The display is also bright and produces vibrant colours, but with a native resolution of 1600 x 900 it won't be able to please your eyes with a bit of 1080p HD action. The EasyNote LM can be hooked up to a suitable TV using its HDMI port, though.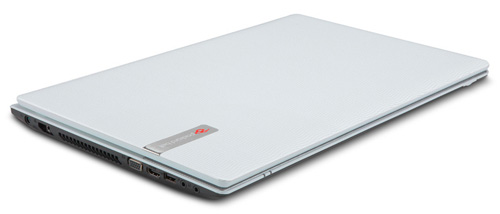 Packard Bell's gone for a Plain Jane approach
During testing, I noticed that the screen flexed quite a bit, and it only takes a slight bit of pressure at the back to knock it against the main chassis. More worrying, however, is the fact that the covers encasing the two screen hinges are far too easily popped out of position.
Had this only happened on one of the hinge covers I could have put it down to a manufacturing fault, but the fact both of the covers only require a slight push to dislodge them isn't great. The stability of the hinges themselves isn't affected, though, and the rest of the chassis feels pretty sturdy.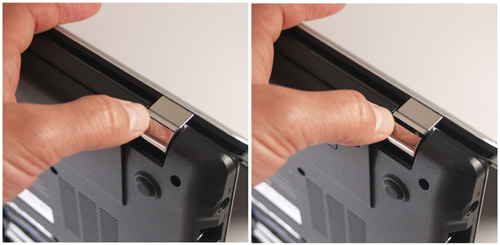 Even the slightest of touches would dislodge the hinge cover
Five screws on the underside are all that stand in your way of a bit of upgrading. A 2GB and a 1GB module occupy the memory slots, but if you ditch latter a quick upgrade to 4GB is possible. Alternatively, you can discard both and slap in two 4GB modules to reach the laptop's 8GB maximum. The 5,400rpm hard drive can also be accessed, as can the Atheros wireless card. Should you have a need for it, there's a spare full-length Mini PCI Express slot on the right.