This article is more than 1 year old
Ten Essential... Travel Speakers
The acme of alfresco audio
Product Round-up With summer galloping towards us with unjustifiable confidence, the thoughts of young men an women turn towards kit that will work alfresco. With this in mind, today I'm taking a shufti at travel speakers.
The key ingredients here are size, weight and price - or rather the the lack thereof in all three instances - an internal power source, be it some AAAs or a re-chargeable battery, and universal compatibility. In other words anything with a 3.5mm headphones jack.
With the emphasis as much on being able to sling them in your backpack before heading off to the beach as well as in your hold luggage I've deliberately not included any of the larger iPod/iPhone. Yes they are often fine sounding bits of kit but they are also big and expensive and I for one would not risk getting sand in them.

Sony Ericsson MBS-400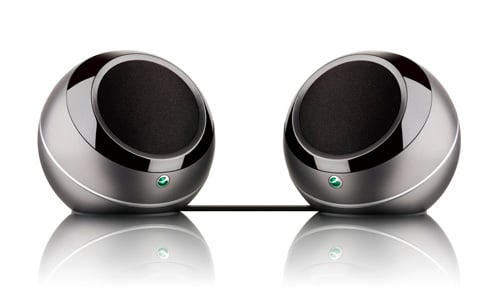 Using Bluetooth, the MBS-400 speaker system dispenses with unsightly cables between source and speaker, though the two speaker units still need to be tethered with the 1.5m bundled 3.5mm audio cable. Still, at least it's long enough to give all the stereo separation you are likely to want or need in a product of this kind.
Users of Sony Ericsson phones get the added benefit of song titles and incoming caller information displayed on an "invisible" LED display on top of the speaker units. If you don't have a Bluetooth device, don't worry - you can attach an MP3 player using the 3.5mm jack, though this does perhaps defeat the object of buying them in the first place.
Each speaker unit is 100mm in diameter and weighs 145g, which when combined with the travel bag Sony Ericsson includes makes for a reasonably convenient package. Having to use a Sony Ericsson charger to keep them topped up, and having to charge each unit individually is less so. Sound was generally impressive with plenty of warmth and power. If your main mobile music source is a Walkman phone these can be recommended.

LG MSP-300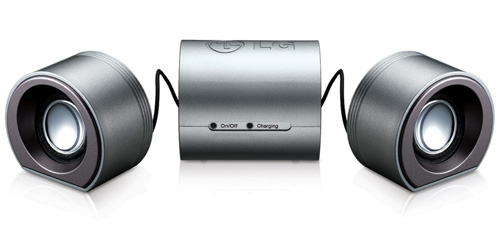 LG eschews the disposable battery option in favour of a rechargeable power pack. This has two downsides: firstly, you only get four hours from a charge and, secondly, if you misplace the bundled LG charger you are stuffed.
Consisting of two speaker units that clip onto a central section, the smart looking MSP-300 flatters to deceive - that middle bit is not a pocket sub-woofer as you might think, it just houses the power pack. The speaker tether cables are a not unreasonable 250mm in length giving decent stereo separation, and they coil up inside the drivers before they conveniently clip onto the tube. If you can't be bothered uncliping the speakers they still work when attached to the main body.
Audio input is via a 3.5mm jack around the back but you don't get a volume control. In terms of sound quality, they just shade the Samsung unit delivering a brighter and more composed soundscape at higher volumes. Clip everything together and you get a tube that measures 120 x 52 x 46mm and weighs around 150g making it no less packable than the Sammy alternative.
Reg Rating 75%
Price £20
More Info LG