This article is more than 1 year old
Ten Essential... Travel Speakers
The acme of alfresco audio

Nokia MD-6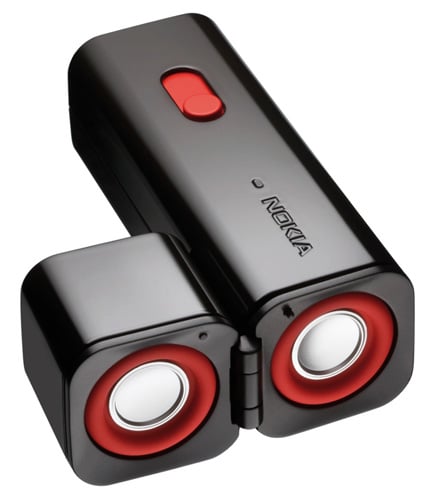 Nokia's MD-6 offers a unique twist on how to mount stereo speakers into a small unit. Flip open the magnetically closed 'top' of the unit and the two 1.5W speakers are revealed. Magnets then hold the two speaker housings in place side-by-side.
It's a design that does nothing for stereo separation but it's still quite clever. The two speaker housings are actually the same size - all that extra space behind the left-hand unit houses the four AAA cells that should keep you grooving for 27 hours, and the cable store.
The cable store is worth a few more words. Push an orange button and the rear of the unit opens to reveal a spool with a 700mm 3.5mm audio cable. Just unroll as much as you need then close the caddy to conceal to the remainder. Sound quality is pretty good too, with no distortion and a fair amount of bass for something so small.
Reg Rating 75%
Price £25
More Info Nokia

Verbatim Bluetooth Audio Cube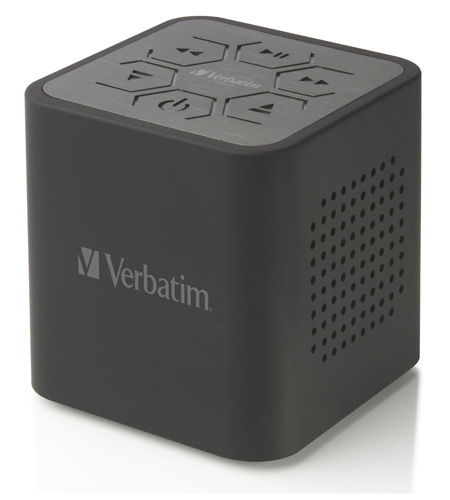 Unlike the similarly Bluetooth linked Solar Sound 2, the Verbatim only works as a speaker, so no hands-free telephony here. That's fair enough since it costs a lot less.
No excuses need to be made for the design, though, which is superb. A rubberised black 700mm square cube with an etched metallic control panel on the top, the Verbatim is the single best piece of design in this round-up.
The control panel houses six hexagonal pressure switches which give you full control over any paired AVRCP audio device. Each side of the cube houses a 50mm 1W driver. Together, these pump out a reasonable if not startlingly good sound. For best performance, don't push the volume above around 80 per cent of the maximum or some breakup can start to intrude.
Power comes either by USB cable or from four AA cells which hide behind a panel in the base. Next to the mini USB charge slot resides a 3.5mm audio jack for wired connections. At 180g including the batteries, the Verbatim shouldn't weigh you down on your travels, and the four rubber feet keep things steady when in use.
Reg Rating 80%
Price £40
More Info Verbatim