This article is more than 1 year old
Ten Essential... Travel Speakers
The acme of alfresco audio

iHome iP49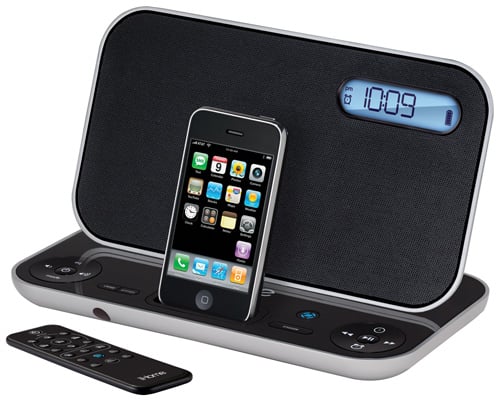 OK, the iP49 is as much a dock as a portable speaker system, but it sneaks under the bar because it folds flat into a rounded package with convenient dimensions of 250 x 130 x 25mm. Use it with an iPod or iPhone - it's fully iPhone compliant - and you can also use the bundled remote control to navigate your tunes library, but a 3.5mm auxiliary jack means it will work with just about anything else too.   As well as being a speaker, the iP49 also has a built-in FM radio with six channel presets and an alarm clock, making it a very handy travel companion. Away from the mains, the unit is powered by a rechargeable battery back which I found to be good for around six hours of playback.
With 20W of power on tap courtesy of Bongiovi Acousitcs' patented Digital Power Station technology with four drivers, the iP49 produces an impressively composed and, perhaps more importantly, loud sound. At £150, it's not cheap, but is still decent value for money.
Reg Rating 80%
Price £150
More Info iHome

Samsung SP100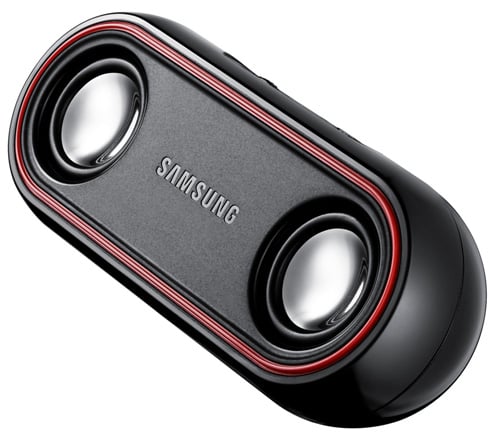 A hugely popular travel speaker that's available from most UK mobile telecos and independent mobile phone sellers, both online and on the high street, the Samsung SP100 is hard to avoid. It's nothing much too look at, with the plastic body and exposed silver speaker drivers looking just a little bargain basement, but it does the job.
Though rated at 2 x 2W, the SP100 is not the loudest unit here but what sound it does produce is well balanced and possessed of a pleasant sense of warmth. For a little late-night listening to Carole King or similar, the Samsung is ideal. Usefully for such a cheap package, the SP100 also has a built in volume control. You connect it up with a bundled 3.5-3.5mm audio cable.
Finding space for your SP100 isn't going to be an issue - it's only 125 x 50mm and weighs 99.5g, including three AAA cells. Samsung has done a decent job at squeezing a quart of sound quality into a pint pot of speaker. A final word of advice: the black unit looks much nicer than the red one.
Reg Rating 80%
Price £15
More Info Samsung