Cisco Systems has announced a business-centric, HD video—capable touchscreen Android tablet it claims, er, "redefines industry paradigms" for mobile communication and collaboration.
The Cisco Cius was announced Tuesday at the company's Cisco Live 2010 conference in Las Vegas, Nevada. The seven-inch, 1.15lb (0.52kg) tablet includes a front-facing 720p camera for HD videoconferencing, and a 5-megapixel rear-facing camera for stills and VGA videoconferencing. Dual noice-cancelling microphones will work to make those videoconferences understandable.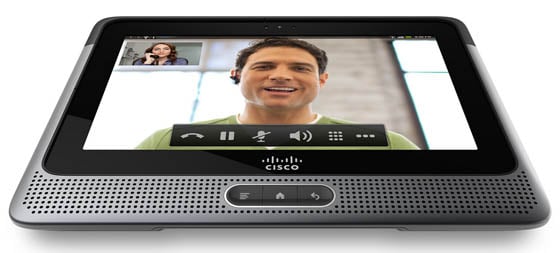 Cisco Cius: the businessman's iPad
As might be expected, the punnishly named Cius will interoperate with Cisco's gaggle of collaborative services, including Cisco Quad, Show and Share, WebEx Connect, WebEx Meeting Center, Unified Presence, and TelePresence. The tablet also supports virtual desktop integration, allowing data center–based apps to be accessed using a "sotware as a service" model.
Through what Cisco opaquely describes as an "eloquent contacts-driven user experience", Cius users will have access to email, messaging, and browsing. Users will also be able to produce, edit, and share video and audio clips that can be stored either on the tablet or — where else? — in the cloud, where that content can be shared.
Cius users will link up over 802.11 a/b/g/n Wi-Fi and 3G wireless. A 4G upgrade will be available "at a later date", and Bluetooth and a Micro-USB port will facilitate PC file transfer and connectivity. Unlike certain Cupertinian tablets, the eight-hour battery in the Cius is "detachable and serviceable".
Cisco vice president Kara Wilson, in a video intro, is bullish on the Android underpinnings of the Cius: "This open platform provides access to the ever-expanding Android Marketplace," she said. "We'll also be partnering with Android developers to integrate Cisco's APIs into Android-developer applications, thereby bringing Cisco's value to the Android-developer community."
In addition to the tablet itself, Cisco introduced an optional desktop handset-and-speakerphone unit with HD audio and DisplayPort, plus USB ports, for in-office use.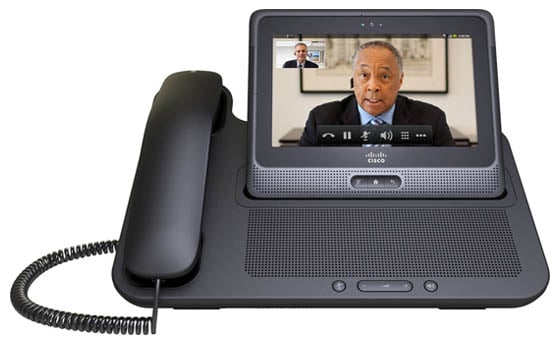 The Cius in its desktop-hogging handset/speakerphone base
The Cius will see its first customer trials in the third quarter of this year, with wide distribution slated to begin in the first quarter of next year. A Cisco spokeswoman told The Reg that although pricing for the tablet hasn't yet been set, the target price point is under $1,000 — which, of course, sounds a lot like $999.99.
Regarding the distribution model for the Cius, she told us: "As a tablet designed for business, the go-to-market strategy will be the same as that for our Unified Communications and Collaboration portfolios today — partner led through Cisco accredited resellers." ®
Similar topics