PCMark Vantage returned an index of 5940, which isn't that impressive. Putting it against the six Mini Desktop PCs Reg Hardware tested in April, it comes in third. If you break the indexes down, there's not a lot of variance within the categories that make up the overall index, either.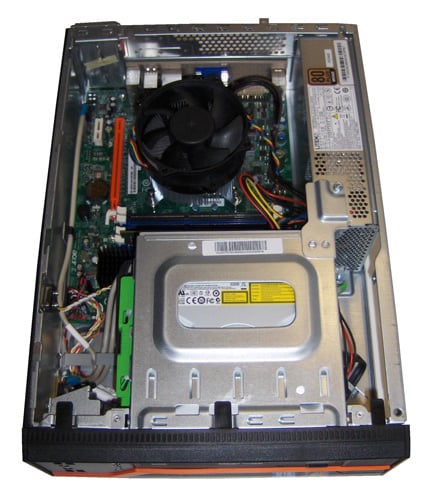 Well-organised internals and cool-running Core i3
It comes second in Memories and TV and Movies, giving some credence to Gateway's assertion it should be good with multimedia, but it's HD performance isn't exciting, coming last among those mini PCs that use 3.5-inch drives. Looking at overall bang for buck, though, the Gateway machine is quite a bit cheaper than many in that group, though not than the winning Viewsonic PC Mini 132.
Benchmark Tests
PCMark Vantage Results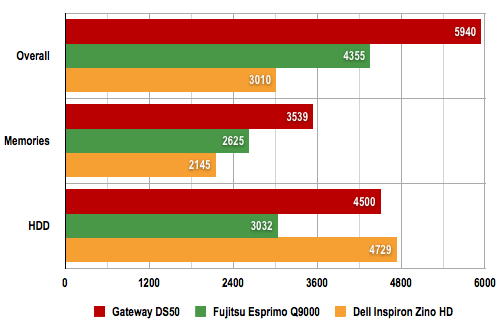 Longer bars are better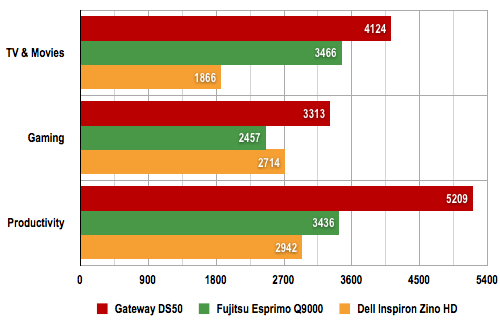 Longer bars are better
Since one of its target markets is multimedia editing, I also ran Cinebench R11, to test rendering performance. The OpenGL result was 1.58fps and the CPU figure was 2.31pts. For comparison, a 4-core Core i7-860 system with an ATI Radeon HD4850 scored 32.26fps and 5.06pts and a 12-core, dual Opteron 2435 with an ATI FirePro V8750 scored 48.73fps and 7.95pts.
The CPU result is interesting if you look at the number of threads each processor offers. The 12-thread Opteron result is 1.6 times greater than from the 8-thread Core i7, which is in turn 2.2 times faster than the 4-thread Core i3 in the DS50. The performance ratios aren't too far off the ratio of threads. Even so, the OpenGL performance doesn't suggest the DS50 is an ideal tool for 3D rendering, though its 2D video performance could make it a useful, low-cost video-editing platform.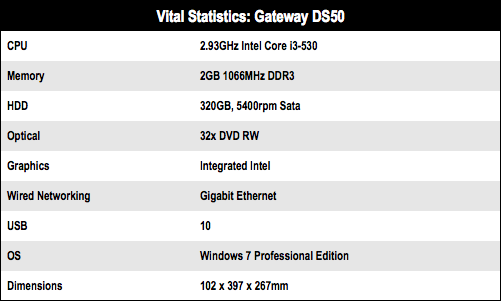 Sponsored: Webcast: Simplify data protection on AWS