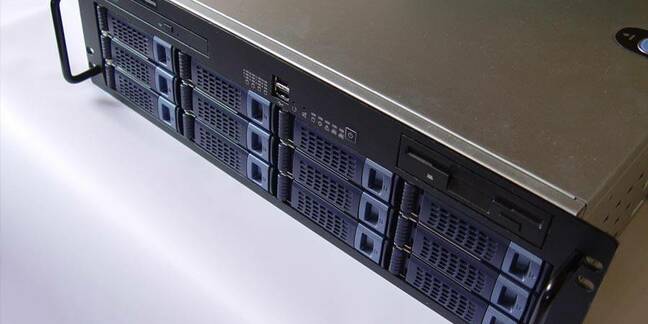 Wednesday was the big day for Cisco Systems' Data Center 3.0 announcement. And rather than talk about the glorious world of the inter-clouds — the fifth phase of Cisco's plan to take over the data center — the company simply rolled out two new switches and some fabric softener.
The first new switch from Cisco is the new F-Series module for the Nexus 7000 converged Ethernet core switch. The F-Series module has 32 ports running at 10 Gigabit Ethernet speeds, with 320Gb/sec of aggregate switching and 230Gb/sec of backplane bandwidth. The device can step down to Gigabit Ethernet at the ports using autosensing.
The Nexus 7000 switches are chassis-mounted behemoths that come in two flavors: a 36.5-inch high unit (nearly 21U or half of a rack) that can have ten fabric modules mounted vertically, and a 43.5-inch unit (nearly 25U) that can house eighteen fabric modules horizontally. Cisco was already selling two 48-port Gigabit Ethernet modules, one eight-port 10 Gigabit Ethernet module, and a 32-port 10GbE module limited to an 80Gb/sec backplane for the Nexus 7000s.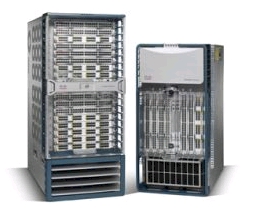 Cisco's Nexus 7000 core switch chassis
The new 32-port module kicks a lot more backplane bandwidth. The F-Series module allows customers to cram 512 ports running at 10 Gigabits in a single chassis. And, says Cisco, it can do so at under 10 watts per 10GbE port at a cost of just over $1,000 per port.
Cisco will start taking orders for the F-Series 32-port 10 Gigabit module for the Nexus 7000 chassis in the third calendar quarter of this year, with shipments following shortly thereafter. The product, which has the catchy name of N7K-F132XP-15, has a list price of $35,000.
Incidentally, Lawrence Livermore National Laboratory, which has a number of supercomputers, including the "Hyperion" testbed cluster and the "Dawn" BlueGene/P cluster, is one of the early customers for the new F-Series module for the Nexus 7000 switches.

The Nexus 7000 F-Series 10 GE module
In addition to this new Nexus switch module, Cisco is rolling out a new enhancement to the NX-OS switch operating system used in the Nexus and Unified Computing System products called FabricPath.
According to Ram Velaga, vice president of product management for Cisco's data center solutions, FabricPath takes the traffic optimization benefits of Layer 3 in the network to be pushed down into Layer 2 such that customers can get out of using spanning-tree networks with blocked links (which are blocked from active use to allow multiple paths up and down the network from edge to core switches) and use a flatter fabric that is completely non-blocking and making use of all links between switches and servers. Basically, you can create a very large Layer 2 domain that can have 8,192 servers and run at 10 Gigabit Ethernet speeds in a non-blocking manner using FabricPath and the Nexus switches. (That assumes you have 48 chassis of the Nexus 7000 core switches loaded up with 10 GE modules, with an aggregate of 160Tb/sec of switching capacity across the switches.)
In one example of how to use FabricPath, Cisco took 2,048 servers and needed 72 managed switches (a mix of core and access switches) with a 16:1 oversubscription in a spanning-tree configuration to link all of the machines to each other. With FabricPath, you get four core switches and eight access switches and create a fully non-blocking network linking all of the 2,048 servers to each other. Velaga says the resulting network offers a factor of 16 improvement in bandwidth utilization (since there is no oversubscription) and burns a lot less power because there are fewer devices. And because there are fewer hops between servers and switches, latency on the network is lower — operating the network is also simpler. You do have to shell out some dough to get this feature, however, which costs $25,000 per chassis (not per line card as we originally reported).
Cisco is selling FabricPath in a hardware-software bundle, called the FabricPath Switching System, that includes six Nexus 7000 chassis with 16 line cards each plus the FabricPath code. Pricing for this bundle was not available at press time, but presumably there is a volume discount.
For those who are just looking for Gigabit Ethernet switches, Cisco is rolling out a new 1U box, the Catalyst 4948E, with 48 normal Ethernet ports. The top-of-rack unit has an optional four 1/10 Gigabit uplink ports using SFP+ connections. This box has 176Gb/sec of switching capacity, considerably more than the 136Gb/sec of capacity of its predecessor, the Catalyst 4948. This new switch also implements IPv6 in the hardware and has a 17.5MB packet buffer (up from 16MB). The Catalyst 4948E is available now and costs $10,495. Cisco says that it has sold over 10 million ports of the Catalyst 4900 series of switches to date, by the way.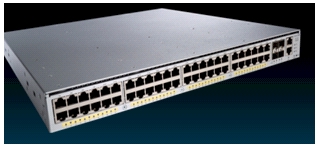 Cisco's Catalyst 4948E fixed-port Gigabit switch
Finally, Cisco said Wednesay that its wide area network optimization software, called WAAS and currently at the 4.2 release level on WAN optimization appliances, can now be loaded and run from Cisco's Integrated Services Routers (ISRs). These are x64-based devices, and WAAS specifically runs on the SRE-700 and SRE-900 modules of the ISR G2 product line. Pricing runs from $4,200 for a small configuration to $10,000 for a larger configuration. ®
Sponsored: Ransomware has gone nuclear