Hulu has confirmed it will charge viewers for programs delivered to iPads, some TVs, and other devices — but apparently without using either Flash or HTML5.
Hulu, the US broadcasters' version of the BBC's iPlayer, said on Tuesday that its long-rumored Hulu Plus service will cost you $9.99 a month.
If you like paying for repeats and still getting ads, then Hulu Plus is for you.
Subscribers will be able to access every single episode of shows such as 30 Rock and Desperate Housewives, plus classics such as nine seasons of Fringe forerunner The X-Files. Hulu users usually only get access to recent episodes of programs from US broadcasters.
And don't think you've finally escaped the curse of ads that comes with "free". You'll still get ads as Hulu attempts to satisfy owners News Corp, NBC Universal and Walt Disney by making more money.
Hulu is attempting to differentiate its Plus service via the software, by making it available on more than just the PC or Mac via a browser.
Hulu Plus is following Netflix by running outside the browser through a Hulu Plus application that's using an unspecified technology to make programs available on the iPad, iPhone, and Samsung internet-connected TVs and Blu-ray players. Samsung customers will need to download the application from the consumer electronics giant's Samsung Apps store.
Unfortunately, considering that Hulu is only currently available in the US, Samsung's Apps Store is not actually available inside the US.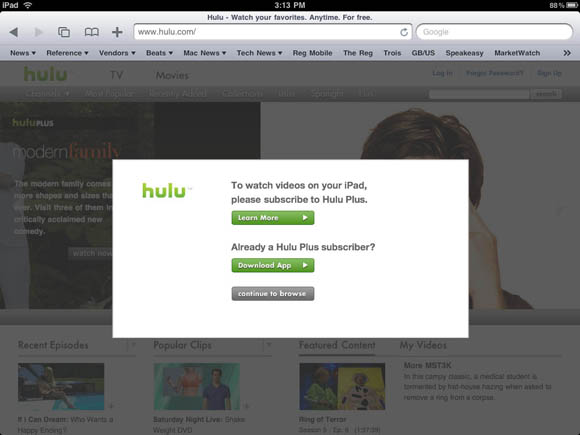 Download the Hulu Plus application to watch outside your browser
The regular Hulu service for the PC is delivered using Adobe's Flash, while rival Netflix streams content to users homes with Microsoft's Silverlight.
Flash is barred from the iPads and iPhones that Hulu was crowing about Tuesday as key differentiators to paying for its Plus service, while Hulu recently ruled out a move to HTML5 as a Flash alternative. Hulu has not been named as a Microsoft Silverlight customer.
A surf over to Hulu on Tuesday afternoon to access the touted Desperate Housewives on the iPad, though, found the video not yet available for the Jobsian machine.
There are indications that Hulu is working with devices on a case-by-case basis instead of adopting a silver-bullet technology approach: Hulu Plus is planned for Sony's Playstation 3 and "other devices" soon, chief executive Jason Kilar said. The Playstation's official browser is a proprietary piece of software, although Opera is available for the games console.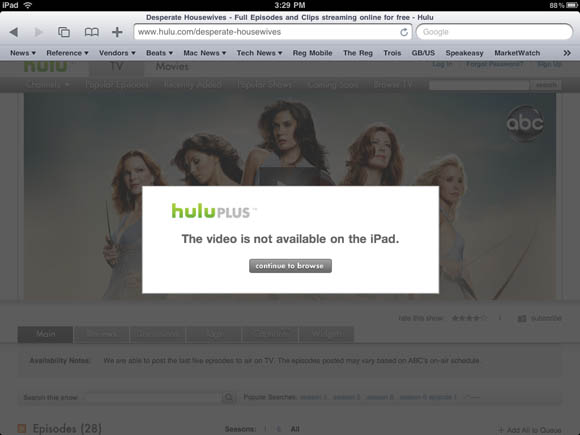 No show: Desperate Housewives unavailable on Hulu Plus for the iPad on Tuesday
There are also signs Plus is being built in real time. Sign-up is via special invitation only, suggesting that either Hulu is trying to build demand through anticipation or that it's trying to avoid becoming over-committed as it builds out the service's backend and encodes video for new players and devices. ®
Similar topics