This article is more than 1 year old
Microsoft's KIN is dead, long live Windows Phone 7
Curse of Zune lives
Microsoft is killing its ill-conceived KIN social network phones, just six weeks after launch. The devices were meant to usher in the next generation of smartphone.
The software giant told The Reg in a statement Wednesday that it no longer plans to launch the KIN in Europe and that it will work with US carrier Verizon to sell any remaining KINs in stock. It's been reported that just 500 KINs have been sold since US availability in May.
Those working on KIN are being moved into Microsoft's Windows 7 Phone team, to incorporate "valuable ideas and technologies from KIN into future Windows Phone releases."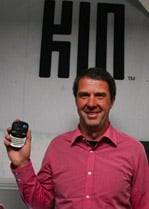 Bach next to his Kin at launch
That's exactly the same language Microsoft used when it killed the Zune player and turned it into an online music service – used by, you guessed it, KIN.
Microsoft's KIN kill order was first reported here.
Unveiled in April, the KIN had the shortest lifespan of any product in Microsoft's 35-year history. It was a badly conceived idea and a classic example of Microsoft trying to segment a mass market using somebody else's idea, hoping it could then squeeze out some cheap money and market share.
Microsoft called KIN the "next generation of the social phone". Microsoft said much the same about its doomed Zune player, calling it a driving the next-generation of digital music. Like the KIN, Zune was to achieve this by padding the device with online services – in this case, music services.
Microsoft pitched the KINs as offering online back up with the ability to rank your favorite feeds and social buddies and drag photos around the screen to share them with other people.
What you couldn't do, though, was play Flash-based video, install other applications, or store anything as you had just 8Gb memory.
Meaning the KINs amounted to a device-specifically for texting, Facebooking, Tweeting, and taking photos – things you could do on any other smart phone – but at a premium price.
The KIN ONE and KIN TWO hit retail priced at a whopping $49.99 and $99.99 respectively with Verizon voice plans kicking in at $39.99 a month and separate email and web starting at $29.99. Spending $110 on the cheapest phone and plans locked you into a two-year contract.
Tellingly, Verizon this week slashed the prices for KIN ONE and KIN TWO in half. Before that, Microsoft had to navigate hostile reviews from an underwhelmed geek press, and change its KIN advertising to kill a case of sexting using a KIN phone's camera.
The KIN was the last master work of former entertainment and devices group president Robbie Bach, and while it makes nothing but sense for Microsoft to focus on Windows Phone 7, it's remarkable Microsoft had to re-learn the lesson of the failed Zune that people want only so many online services and actually like a slightly chunky but cool client. ®