A Greater Manchester mum is "angry, disgusted and upset" after Google flashed her three-year-old son's arse at Street View surfers.
Claire Rowlands, 25, told the Manchester Evening News of her horror at discovering the Great Satan of Mountain View's spymobile had grabbed her nipper's backside while he was butt naked in his grandmother's garden in Walkden.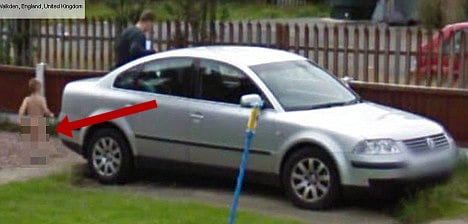 She said: "I just felt sick to my stomach when I saw the naked picture of Louis on the internet. I'm angry, disgusted and upset about it – they should be checking every image before it goes up.
"They should be extra careful on warm days because this is what children do - he was just playing in the garden and we didn't expect in a million years he'd have his picture taken and put on the internet for anyone to see.
"It's such a clear image, I see it as an indecent photograph - my concern is that paedophiles could see it and there's no way I ever wanted my son to be seen naked all over the world."
Google has apologised and pixellated the offending buttocks, as the above pic shows. A female spokesoperative offered: "We take issues around inappropriate content in our products very seriously, and we removed the image in question within an hour of being notified.
"For us, privacy and user choice remain paramount. This is why we have put in place tools so that if people see what they believe to be inappropriate, they can report them to us using the simple tools and the images will be quickly removed. We apologise for any inadvertent concern this may have caused." ®
Buttnote
The Daily Mail got hold of the story yesterday, and the paper's Middle England commentards are showing rare and exemplary good sense. One wrote: "If you're that worried about paedophiles love then don't let your kid run around naked outside in the front garden!!! And publicising it in the newspapers? Yeah that's going to help isn't it!!!"
Another summarised: "And she was so upset, she allowed herself AND her son to be photographed for this article!"
Neither the Manchester Evening News nor the Mail has published the exact location of the outrage, presumably lest it become a site of pilgrimage for the UK arm of NAMBLA.