This article is more than 1 year old
Amazon Kindle DX drops price, improves display
Still twice the price of its little brother
Amazon has revamped and repriced its Kindle DX e-reader, improving its display and dropping its price from $489 to $379.
The upgraded 9.7-inch e-ink display on the new DX, big brother to the 6-inch original Kindle, is still monochrome. Color e-ink may be improving, but it's still not ready for prime time.
But the new DX's 16-level grayscale display, Amazon claims, now has 50 per cent better contrast than the earlier model — and, we presume, 50 per cent better than the demi-Kindle.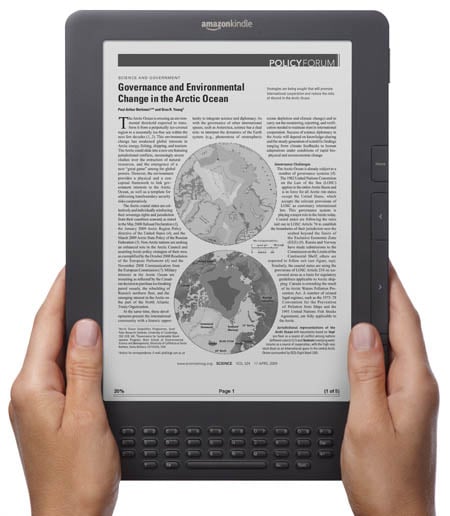 You can now choose between a graphite or white finish, but only in the US
The new DX's display also remains backlight-free, which Amazon touts as an advantage it has over its 9.7-inch competitor, the iPad, because its paper-like appearance makes it possible to read in bright sunlight. If you happen to read on your porch or on the beach, that's good; if you read in a dimly lit bedroom while your partner snores next to you, not so good.
In addition to its improved display, the biggest advantage the new model has over the original Kindle DX (our review here) is its price. When the iPad came out at $499 for its entry-level model, it was merely a matter of time before Amazon would be forced to drop the price of its less-versatile tablet.
Now that the Kindle DX has dropped $110 of excess price-tag poundage, it'll be interesting to see whether it will be enticing enough to remain relevant — after all, the 6-inch Kindle recently had its price slashed from $259 to a mere $189. The little guy may provide a less enjoyable reading experience due to its smaller display, but you can buy two of them for the price of one DX and still have a buck left over for a frosty beverage.
The new Kindle DX will be sold globally beginning July 7 — although the new graphite model will initially be available only in the US. Preorders are now being accepted. ®