The desktop market was won by Microsoft in large part because of its appeal to the broadest segment of the developer population — cue the Steve Ballmer fight song, complete with sweat stains and manic enthusiasm.
In mobile, Microsoft is AWOL because it has failed to attract developers in meaningful numbers. Instead, Apple and now Google claim the biggest share of mobile developer mindshare.
Why? Well, because of money, of course.
Developers, however much we may want to paint them in hues of peace and free love — or, at least, free beer — have bills to pay and occasionally need to order pizza. This costs money, and money requires selling things.
In the mobile world, Apple and Google operate the app stores that give developers critical consumer mass. No one else comes close.
Of the open-source mobile platforms — MeeGo, Android, Symbian — Android is the clear winner. It garners the most raw interest, as measured by the (somewhat specious) Google Trends data. It also ships the most relevant new smartphone handsets: 65,000 each day.
The result? Developers have written more than 80,000 apps for Android.
And while Apple currently claims nearly triple Android's app population for the iPhone OS (iOS), there are at least two reasons to believe that developers will fall out with Apple over time to embrace Android.
First, Apple's iPhone pricing strategy may not work on the global stage, a point made by Dan Steinbock at Harvard Business Review:
The iPhone first came to India with a bang in 2008, but high prices ($665 for 8GB, $775 for 16GB) buried the product. Most buyers felt many of the key features were already available in mobile devices that cost only a fraction of that amount. For phones that may cost less than $175 to build, both Apple and Airtel stuck to the $700 price for the phone in India (vs. $199 with a two-year AT&T contract in the U.S) - in other words, 68 percent of the annual GDP per capita.

In the US, the comparable GDP per capita is $46,381. Would you pay more than $31,500 for an iPhone?

After India, the iPhone flopped in China, where it arrived with a price tag of a stunning $1,000 without a contract. By the end of 2009, some 100,000 iPhones had been sold in China in a marketplace of 724 million mobile users.
Given the volume in these two markets alone, and their significance going forward, there's reason to believe Android will find a heartier consumer welcome than iPhone OS. Developers, anxious to sell their apps into these markets, will follow.
The second reason to believe that Android will win in the long run is that it has history on its side. Whatever one may think of Microsoft, one of the reasons it beat out its personal computer competitors is that it offered a more open alternative at lower cost. Android appeals to developers for the same reasons.
Recent survey data from Appcelerator confirms this, with more than half of the 2,733 developers surveyed betting on Android over the long term, even as they code for Apple in the short term. It's worth noting that Appcelerator provides a layer of translation software that Steve Jobs appeared to ban in the iPhone OS 4.0 release but that is now allowed — at Apple's discretion.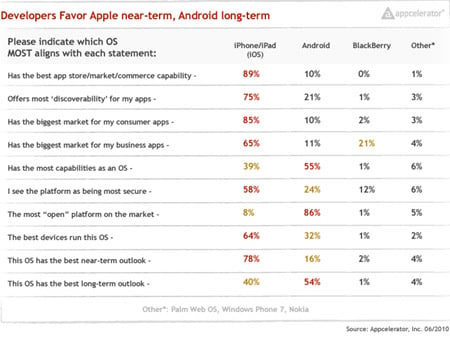 Appcelerator polled more than 2,000 developers on smart-phone bets (click for larger view)
This isn't to suggest that Google will find it easy to win over developers. As prominent developer Jon Lech Johansen opines, Google needs to do a number of things to improve its Android Market experience so as to better serve consumers and, by extension, developers.
Perhaps, as Dave Rosenberg writes, Android needs a touch of the Jobsian strongman, someone to cut out the clutter of Android apps and enforce quality control.
Perhaps.
But the messiness of Android's free-software approach to enabling free-market apps should trump Apple. Gartner sees Android surpassing iOS by 2012 in the mobile operating system market. It's only a matter of time before it also displaces Symbian, the dominant-but-fading mobile OS leader.
All thanks to developers. ®
Matt Asay is chief operating officer of Ubuntu commercial operation Canonical. With more than a decade spent in open source, Asay served as Alfreso's general manager for the Americas and vice president of business development and he helped put Novell on its open-source track. Asay is an emeritus board member of the Open Source Initiative (OSI).
Similar topics