This article is more than 1 year old
Apple iPhone 4
Machined to perfection?
But it's not a game changer. I have to say, for a phone, the 3GS' display was perfectly adequate. While a higher resolution might be great when you're sitting down to watch a movie on TV, when you're just casting a glance at the Weather app, a lower resolution isn't an impediment.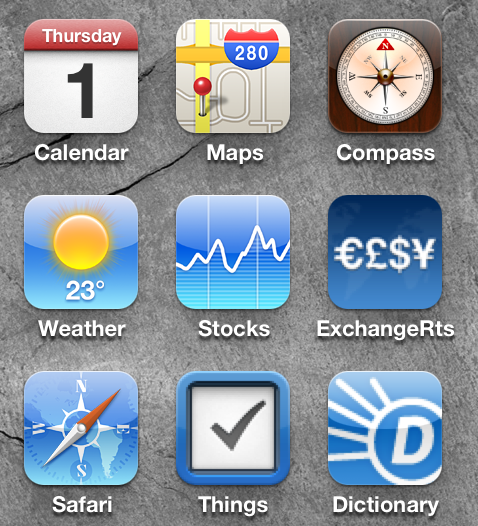 Iconic screen: the as-yet-upgraded apps stand out
It's not like processing power, say, where an old machine will just take too long to complete a task and you long for something faster because you know you'll be able to do more with it. Because Apple tells developers to design their apps for the old screen size but use higher resolution image graphics, the Retina Display doesn't convey any more information than its predecessor could. So it's nice to have rather than a necessity.
Which defines the whole iPhone 4 upgrade experience, really. There's a lot here that you wouldn't say 'no' too, but you may not want to cancel a contract for.
The other in-your-face change Apple has made to the new iPhone is its design. The iPhone 4 is narrower than the 3G and closer in dimensions to the original iPhone. That makes it more comfortable to hold.
But by abandoning the 3G's distinctive shallow-curve casing, Apple has put aside one way the old handset stood apart from its rivals, replacing it with a look that, thanks to those flat sides, actually looks like some of the early iPhone wannabes.