Apple iPhone 4
Machined to perfection?
But it's no down-market drive. After the plastic used to make the 3G and 3GS cheaper to produce and lighter to hold, the shift to a rear panel made, like the front, of toughened glass, and separated from it by a steel band running round the side, gives the iPhone 4 an up-market feel.

Moving back up-market
Now that not only the world and its dog but also its plumber has an iPhone 3G, has Apple begun to fear that it's lowered the tone too far?
Apple doesn't, after all, want to be Samsung or LG. It doesn't really want to be Nokia. It wants its products to be aspirational, to appeal to the well-heeled and the people who'd like to be - to punters who'll pay that little bit extra.
So, apart from a sexy new look and the Angelina Jolie of mobile phone screens, what does your £499 - for the 16GB model, factory unlocked at last - get you?
How about FaceTime - or, as the cynics will call it, FailTime? Apple hype aside, it works and it is a good implementation of video calling. It's tied into the Phone app, rather than a separate one. If you make a call to another iPhone 4 that's simultaneously connected to a Wi-Fi network, you can tap the FaceTime button and jabber away Skype/iChat fashion.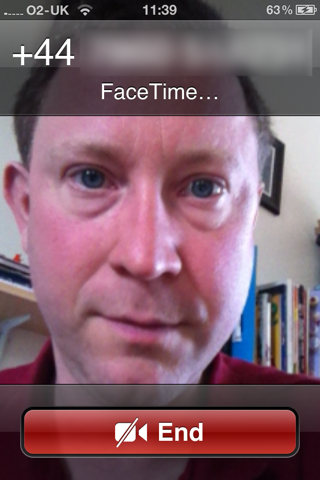 FaceTime works smoothly, and the way voice calling should work... if you can find someone to do it with
There's an on-screen guide to help you position your pucker, and a switch to cut to the rear-mounted camera and back again. FaceTime also seems to drop the cellular call, so even though a network link is required to initiate them, video calls won't use up airtime minutes.