IK Multimedia iRig and AmpliTube iPhone app
A vanload of amps, stompboxes, and mics in your pocket
---
Review Back in the days when I was lugging around a beefy Peavey Centurion Mark III bass-amp head, if you had told me that someday I'd be gigging with my phone I would have slowly backed away, thinking that you were either dangerously high or simply deranged.
But now, with my iPhone and IK Multimedia's AmpliTube iRig, that phone-supported gig can be a reality. And not only can I play my Fender P-Bass and fretless Jazz through IK's setup, I can squeeze far more tonal variety out of either bass than I ever could with my Peavey. Or my friends' Marshalls, Fenders, Gallien-Kruegers, or whatever.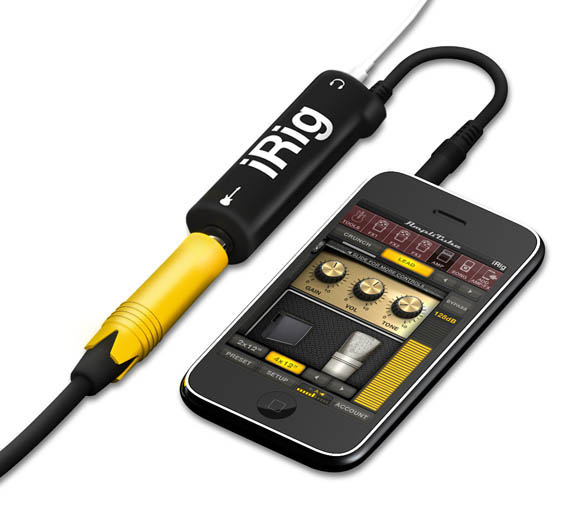 Simple, inexpensive, and powerful
Cut to the chase: this setup is freakin' amazing. Not perfect, but close enough.
Before I dig into the details of this Peavey-in-my-pocket, do know that although I'm a bass player (not quite a "bassist", but a notch above "a guy who plays bass"), a pro-guitarist friend of mine was equally impressed — perhaps more so, as we bassists have more-limited options. And imaginations. Or so it has been said.
First the hardware, then the software: the $39 iRig is a gig-sturdy connector with a 1/4-inch mono phone jack on one end into which you plug your guitar/bass/keyboard/whatever cable's male phone plug. The other end has a female 1/8-inch mini phone jack to connect your headphones or amp, and a five-inch cable with a mini phone plug on it that connects to your iPhone 4, 3GS, or 3G; your iPad; or your second- or third-generation iPod touch.
It's the AmpliTube iPhone app that makes the iRig sing. With it, you can add a variety of stompbox effects; model different amps, cabinets, and studio microphones; create selectable preset effect combinations; and play along with full or looped snippet of tunes that you load onto your Apple device — I'll say iPhone from now on, because my testing was done on an iPhone 3GS.
If you're familiar with AmpliTube 3 for the Mac and PC, with its 51 stompboxes and effects, 31 amps, 46 speaker-cabinet choices, and more, think of AmpliTube for iPhone as a starter set — and possibily a stepping stone into the full AmpliTube experience.
AmpliTube for iPhone comes in three flavors of ascending cost and interest: AmpliTube FREE comes with three stompboxes, one amp and cabinet, and microphones; AmpliTube LE has five stompboxes, one amp and cabinet, and two microphones for $2.99 (€2.39). With in-app purchases you can add more effects for $2.99 each and amp/cabinet combos for $4.99 (€3.99) each.
But why dick around? The $19.99 concisely named AmpliTube gives you 11 stompboxes, five amps and cabinets, and two microphones. Trust me: don't nickle-and-dime yourself — this is the most fun you'll have for twenty bucks since [insert preferred sin or substance here] cost twenty bucks.
Similar topics
Narrower topics