Sony Ericsson Xperia X10 Mini
World's smallest Android 'andset
Also present and correct are all the usual modern smartphone trimmings including stereo Bluetooth, Wi-Fi, assisted GPS, and RDS FM radio and MicroSD storage expansion. Get your Mini from Three and you also get free Skype-to-Skype calls, pink and black back covers and a 2GB MicroSD card.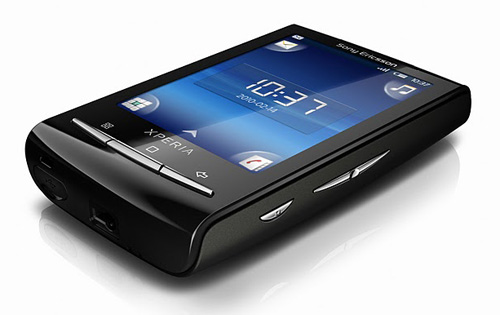 A remarkably usable little device
I was worried that the small form-factor would be detrimental to call quality - hold the handset to your ear and the microphone is pretty far away from your cake hole - but in use this proved not to be an issue, the Mini performing every bit as well as my usual phone.
The battery is apparently rated at 900mAh but be that as it may, I found a full charge was good for two days of average use if you don't leave the Wi-Fi or GPS radios switched on for any extended length of time. Even with heavy use, a full day between charges is easily achievable.
Incidentally, I did notice a number of games missing from the Android Market when accessed from the Mini, along with the BeebPlayer iPlayer app. Possibly a case of them simply not working on a screen this small.
At the time of writing, Vodafone, Three, Orange and O2 are all offering the Xperia Mini free on contract, with Three - who kindly supplied the review unit - offering arguably the best deal by providing the handset for nowt on a £15-a-month tariff for two years.
Verdict
On paper, the X10 Mini looks like a bridge too far in the attempt to reduce the size of a touchscreen smartphone, but in the hand it proves to be a remarkably usable little device. The size and jewel-like looks will appeal to many, and my only reservations are the lack of a virtual Qwerty keyboard and the built-in battery. ®
More Smartphone Reviews

Apple
iPhone 4
Dell
Streak
Samsung
Wave
Sony Ericsson
Xperia X10

Sony Ericsson Xperia X10 Mini
A pint-sized Android smartphone squeezed successfully into a half-pint bottle.
Price:
Free on contract, £230 SIM free and unlocked. RRP