This article is more than 1 year old
Buffalo MicroStation SSD
Time to chuck out your laptop's hard drive?
Review Buffalo has come up with a novel way of easing the hard drive upgrade process. Instead of bundling a 2.5in enclosure with its MicroStation SSD - or not even bothering with one at all - this 3Gb/s Sata laptop drive has its own on-board USB 2.0 port.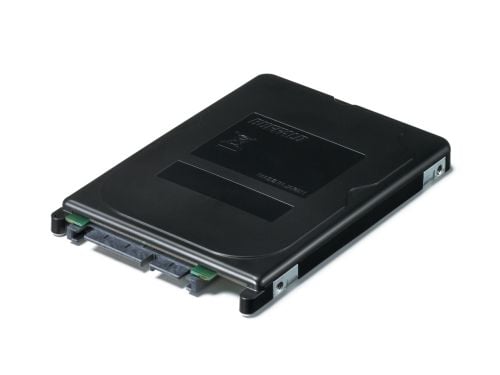 Buffalo's MicroStation SSD: speedier than your average laptop HDD
It's easily missed. Unpack the MicroStation and, at first glance, it looks like any other 2.5in internal SSD. It feels like one too: it's a light as a feather, making you wonder whether there's anything at all inside the black casing.
There is, of course: 32-256GB of multi-layer cell (MLC) Flash storage, a 64MB Ram cache and a JMicron JMF612 controller. And a Mini USB port. It's there, on the edge opposite the Sata connector. The notion is you just connect it to your PC externally, run the bundled drive cloning software and then you're ready to swap out your old HDD.
It certainly saves time, not having to install the SSD into an enclosure first, and I was initially keen on this neat and tidy idea. But then what do you do with the hard drive you've just taken out of your laptop?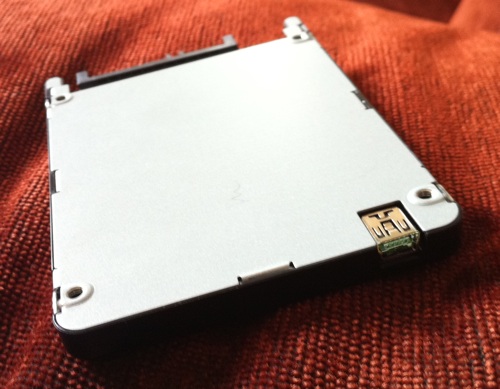 The built-in USB port to make upgrades easy
The advantage of a bundled enclosure is that you can put the swapped out drive into it afterwards and use it as a regular external HDD. Without one, you're left forking out 20 quid if you want somewhere useful to stick the old drive.