Vital PARIS supplies jet in from US
Paper? In tubular form? That sounds like...
---
It was with a certain amount of relief that the Paper Aircraft Released Into Space (PARIS) team this morning signed for a cardboard box packed with vital components for the Vulture 1 aircraft.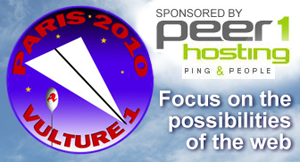 As you know, the principal challenge of our audacious high-altitude vehicle launch project is to construct all the Vulture 1 structure entirely from paper. Well, we were doing our usual head-scratching (one hand scratching head, the other holding pint) as to quite how we could put something together to withstand conditions at 20,000 metres, when we had a stroke of inspiration.
Yes indeed: paper straws. With these, our reasoning goes, we can construct a strong tubular framework over which we can stretch yet more paper to form an outer skin.
All well and good, but suffice it to say the only paper straws we could source come from some planet-hugging, eco-friendly outfit* in the US of A, which resolutely declined to answer our emails about shipping to Europe.
Enter Cade Metz of El Reg's San Francisco bureau, who bought a box and moved with lightning speed to dispatch it to Europe.
However, a well-known courier company refused to touch this sensitive shipment on the grounds it was "non-comestible foodstuff", or somesuch nonsense.
Cade did, though, eventually manage to get the straws in the post via another, less national-security-conscious operator, and here they are safely arrived at the Vulture 1 assembly plant: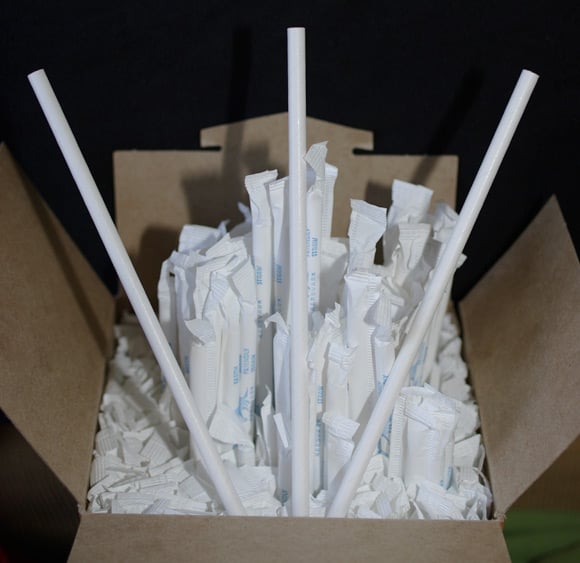 The sceptical among you should be aware that these really are top-quality 6mm diameter straws, and we believe a quick dip in a PVA/water mix** followed by PVA jointing process will indeed deliver the kind of strength we're looking for.
Our first move is to establish the best method of creating continuous lengths of straw by butt-jointing the 200mm-long rods together, after which we'll get straight down to putting the Vulture 1 together.
And yes, we do have a design, which will slowly be revealed as the plane goes together. Suffice it to say, aficionados of vintage gliders will applaud our choice.
Back in the main payload department, meanwhile, we're working on a revised, pressure-operated release mechanism, following a not-quite successful trip to QinetiQ with the Mark I model. Expect bulging rubber tubing and pistons in due course. ®
Bootnotes
* Oh alright then - they didn't answer our emails but here's the one-stop shop for all your paper straw needs.
** They are already waxed, but we're looking to add a little more impermeability and strength.
Additional PARIS resources
Our dedicated PARIS section, with all previous updates, is right here.
New to PARIS? We have a basic mission summary here (pdf).
Check out our YouTube channel - currently featuring a few camera tests.