Truth in advertising
If you'd like to try openSUSE 11.3, I highly recommend installing the KDE desktop. Not only is openSUSE shipping with KDE 4.4.4, but there are several potentially nice customizations, including the KSuseInstall app that purports to automatically fetch needed software — Amarok codecs, for example.
Unfortunately, KSuseInstall is sometimes more hassle than help. For example, when Amarok starts up it will helpfully remind you that openSUSE doesn't ship with MP3 codecs installed. That will kick in the KSuseInstall app, which will tell you it can automatically install them. Sadly, it can't.
You'll need to go through a total of six dialog boxes and one YaST module to add the necessary repositories before you get the MP3 codecs installed. Of course, the hoops aren't openSUSE's fault — they exist because of legal issues — but to offer what appears to be a one-click install tool that turns out not to be seems a bit like false advertising. The truth is that no Linux distro can make installing MP3 codecs a one-click process — and it's probably high time they stopped trying.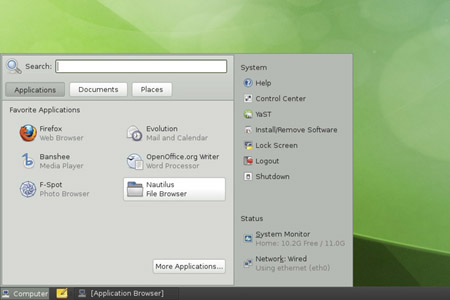 The Slab interface doesn't live up to its potential
Aside from some hiccups with KSuseInstall, KDE 4.4 brings a few nice new features, such as the ability to group multiple windows in a single window. Billed as way to streamline your workflow, window groups make it possible, for example, to bind together a Dolphin window, terminal session, and chat client all in the same window.
That's great news for power users, but it also means that it's easy to end up with tabbed windows within tabbed windows — potentially very confusing for newcomers. Luckily the window groups feature is hidden away in the right-click menu so unless you go looking for it, it won't get in your way.
While KDE may be the focus, GNOME is still around, and according to openSUSE's own statistics roughly a quarter of users install the GNOME desktop. Although openSUSE may be using KDE as the default, it hasn't neglected GNOME, though the GNOME version of openSUSE feels vaguely KDE-like, with only a single bottom toolbar by default and the "Slab" menu.
The Slab menu functions much more like the "start" buttons in KDE or Windows 7. Fans of Linux Mint will be familiar with what's possible with Slab: easy access to everything in your system from one, unobtrusive panel.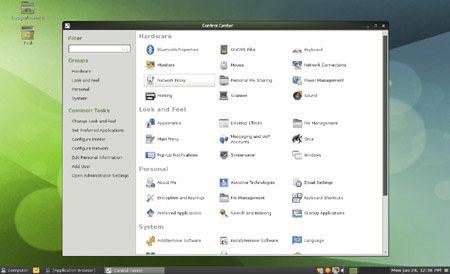 Control center delivers quick access to GNOME settings from a single panel
However, the openSUSE version of the Slab menu is not nearly as powerful as what you'll find in Linux Mint. In fact, aside from a three-button interface that lets you see a limited number of apps, recent documents, and the usual Places menu options, the Slab doesn't have much to offer.
In Mint, searching, clicking the "more applications" button, or any other Slab buttons will load the new content within the menu. In openSUSE, clicking those buttons will just open a new Nautilus browser window on your desktop, making the Slab menu of dubious value.
No matter which desktop you opt for, one place openSUSE really excels is the number of included packages. On the GNOME side you'll find extras like the Liferea RSS feed reader, gFTP, and even the XChat IRC client. OpenSUSE also includes the helpful GNOME control center that gives quick access to just about every GNOME setting available, all from one convenient panel.
Overall, openSUSE 11.3 does a decent job and packs the usual extras you would expect from a project that feeds into a commercial, enterprise Linux distro like SLED.
However, there are lingering niggles and some further polish is needed. Hopefully, openSUSE can finally solve these on its way to establishing its identity clear of Novell. ®
Similar topics