This article is more than 1 year old
Belkin Play Max dual-band wireless router
Router booster?
Review The Belkin Play Max has ideas far above its station as a plain old wireless internet router. Its extra song'n'dance talents include a Nas service for USB-attached drives, a media server and a BitTorrent download assistant. But all this depends on your setting it up as your main connection to the internet. And I stumbled on some serious shortcomings in this department.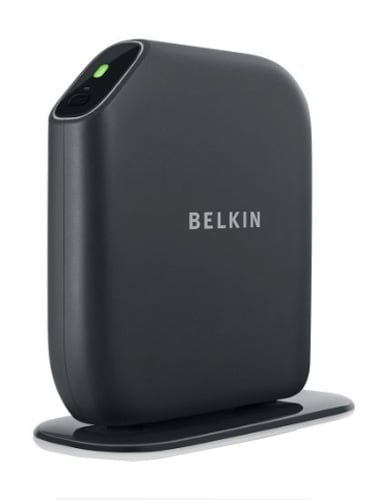 Belkin's Play Max: beginners'
The hardware looks good. With 64MB of Ram and 8MB of Flash, it's build around a single high-end Broadcom router system-on-a-chip that packages up simultaneous dual-band radio - 2.4GHz and 5GHz - with the basic router functions and adds two-port USB support for use as a Nas device. There's also a Broadcom Gigabit switch to handle the single WAN port and four LAN ports.
The Play Max appears to be aimed at the total newcomer. I'm not sure I'd recommend loading all that extra song'n'dance functionality on a beginner. But as a starter package, the product does the job. Use the bundled Ethernet cable to connect its WAN socket to your existing cable or ADSL modem, stick the CD into your laptop, follow the simple instructions and wirelessly, painlessly, you quickly end up with a working, secure, net-connected network.

Gigabit Ethernet included, plus USB for printer and drive sharing
Subsequently, you can connect other machines simply and securely - in the case of Windows 7 PCs, for instance, just by pressing a button on the front of the Play Max. Older Windows laptops normally only operate at 2.4GHz, but I found my MacBooks were able to use the 5GHz band as well.