Hitachi GST tries to redefine external drives with LifeStudio
Cloud backup & eye candy
---
Hitachi GST is trying to redefine the consumer external hard drive with its LifeStudio products, which include local and cloud backup, document and multimedia content management, a 3D wall eye-candy interface and an attached USB stick.
Hitachi GST has decided that consumers don't just want as much capacity as possible - they need software to organise and simplify access to all their digital content, secure it and help them share it. Instead of having separate Facebook, Picasa, Flickr, YouTube and local content stores and interfaces there should be a single window through which you organise, view and share everything.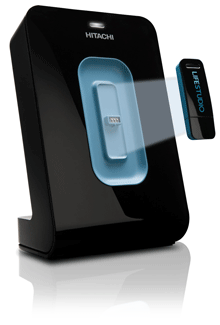 LifeStudio Desk Plus
The company has sourced this software from Cooliris. You can download a copy from Cooliris and plug it into your browser to try out the 3D wall interface. Your content is represented as images plastered on a straight wall rendered with perspective effects and extending into the distance, seemingly at a 45 degree angle from your screen. You can have your viewpoint on this wall move along it at express train speed, and wherever you stop that section of the wall swings to lie parallel with your screen, and its content image icons enlarge.
Hitachi reckons this is the way to reinvent the external drive. Liz Conner, an IDC senior research analyst, says that with LifeStudio drives "end users truly have an all-in-one solution to help manage their digital life".
The products come in the LifeStudio Desk 3.5-inch hard disk drive range and a smaller 2.5-inch drive-based LifeStudio Mobile range. The Mobile range comes in 250GB, 320GB and 500GB capacity points with a pair of Mobile Plus products, incorporating a 4GB USB flash drive, at 320GB and 500GB capacity points.
On the Desk side there are 500GB, 1TB and 2TB capacity points with 1TB and 2TB Desk Plus models having the USB drive as well.
The software detects relevant content on an attached PC or Mac and backs it up onto the drive, at automatic 30-minute intervals or at settable times. Content can also be backed up to a Hitachi cloud service, from where it can be viewed, downloaded and shared from any web browser, including Safari on the iPhone and iPad. Every customer gets 3GB of Hitachi cloud storage for free.
You can select files on the drive to sync to the USB key on the Plus models and take it on the road with you. Anything added to the USB key is automatically synced back to the LifeStudio drive when it is re-attached. Hitachi GST says the USB key provides "grab n' go" ease.
Hitachi GST will be selling its LifeStudio products in competition with media-serving Western Digital MyBook and MyPassport drives and Seagate FreeAgent drives as well as products from LaCie, Iomega and other suppliers.
The LifeStudio drives will be available at retail and online stores in mid-July with suggested retail pricing starting at $79.99 for the Mobile product and $99.99 for Desk. ®