If the "what if" is compelling, so was the imagery and violence for the time
A family of three are happily picnicking on the beach near the plant when the guards pull up in their truck to shoo them away. Mum in her best hat and coat doesn't want any trouble and is ready to go but dad ain't gonna get pushed around and he stands up to the guard, who unslings his weapon. Cut to Quatermass poking around the plant and we hear distant machine-gun fire. Later, we see the family's car being towed into the plant with an arm swinging lifelessly from the car's open window.
The aliens are cruel. They trick three union men in Paddy's armed band into surrendering with promises of safety. Later, the guards stuff their bodies into the pipes of the industrial plant to block the flow of oxygen being pumped in by Paddy's men from the control room to kill the aliens.
Death is indiscriminate. Dr Leo Pugh is assimilated by the aliens but we don't know it until he's accompanying Quatermass on the nuclear rocket to the aliens' asteroid. Under their mind control he pulls a machine gun on Quatermass and fires but is blasted into space by the gun's recoil. He's alive but as good as dead - Quatermass is alone on the ship and this is 1955, so there's no such thing as space walks or deep space rescue.
As Quatermass primes the core of the rocket's nuclear engine to explode we hear Pugh's pitiful disembodied screams over the ship's radio for Quatermass to stop. When the rocket destroys the aliens the telepathic link between human host and alien is broken. Unfortunately, that means Dr Pugh is once again himself, only he's now floating beyond help in the cold reaches of space and doomed to run out of oxygen. In the days of Flash Gordon, central characters were regulars but this is like Aliens, where we get to love - then lose - each colonial marine to the creatures.
The final horror is that in Quatermass II science does not necessarily have the answer to your problem. The 1950s is an decade of supposedly limitless human achievement, with A-bomb tests and consumer gadgets that would change our lives forever.
Quatermass II initially reflects this, with Quatermass building a nuclear-powered rocket on behalf of the government to serve as a shuttle for the colonisation of the moon. Except the rocket doesn't work – it malfunctions on a test flight in Australia, resulting in a huge nuclear blast that kills the lunar plans. The aliens, meanwhile, have come from far further afield than the Moon and they're using sophisticated stealth flight techniques that most people can't understand, according to Dr Pugh before he's offed. The humans' only way of defeating this superior enemy is a desperate kamikaze mission – using one of Quatermass' faulty nuclear spaceships as a flying bomb.
Human achievement is not only frail, it seems, but it's also limited in its vision and its capabilities.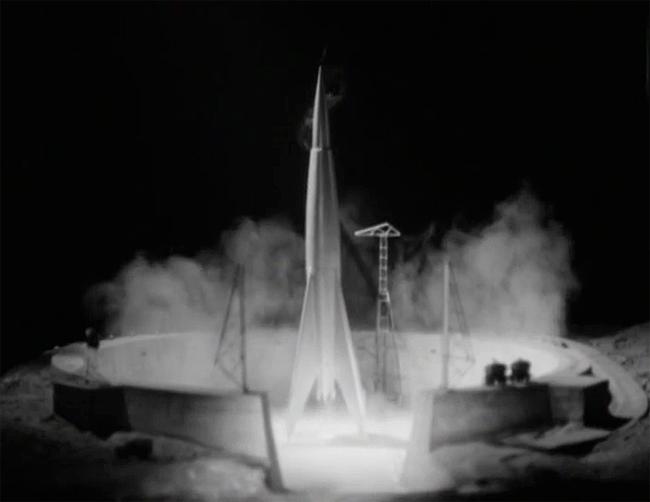 Smoke and string: Quatermass' British Experimental Rocket Group's nuclear-powered craft is one of the series' special FX models
Over the decades sci-fi has become a creative backdrop for the allegorical storyteller and spinner of metaphor – just like the Western. In this respect, Kneale told a story that filtered some of what he'd have read or experienced – WWII occupation, workers rioting in East Berlin against the Soviet authorities, growing union power, industrialization and modernization.
From the science perspective of science fiction, Quatermass II is the dark child of others' adventures, with complicated alien adversaries, cruel deaths and questionable boffinry. But Kneale did more than "rip from the headlines" or just complicating the black-and-white stories of kids who grew up before and during WWII.
He capitalized on a strand of British storytelling called invasion literature. It's a strand that would have played well to an audience of all ages and walks of life immediately following WWII, people who saw their lives - and way of life - threatened. In that tradition we have literature such as The Battle of Dorking - Reminiscences of a Volunteer and HG Wells' War of the Worlds, both of which shocked Victorians with stories of continental or extraterrestrial invaders destroying the green and leafy market towns of Surrey.
Later we had Ealing Studios' Went the Day Well, and Kevin Brownlow and Andrew Mollo's It Happened Here, which tell of German landing and occupation, with villagers committing acts of murder in the name of freedom and Britain either donning the swastika or resisting while the Bosche goosestep through Whitehall.
The story of an alternative reality is compelling, even gripping if it involves the defiling of everything you hold familiar or sacred. It's certainly more enduring than the reality TV of a new Queen or sports trophy, and it served Kneale well with Quatermass II and "the franchise." ®
Next Mars, Bringer of War: Quatermass and the Pit