This article is more than 1 year old
Renault DeZir: 'leccy sex machine
'Warm, stimulating design'
Renault has released more information — and a series of teaser images — of its DeZir concept car, set to debut at October's Paris Motor Show.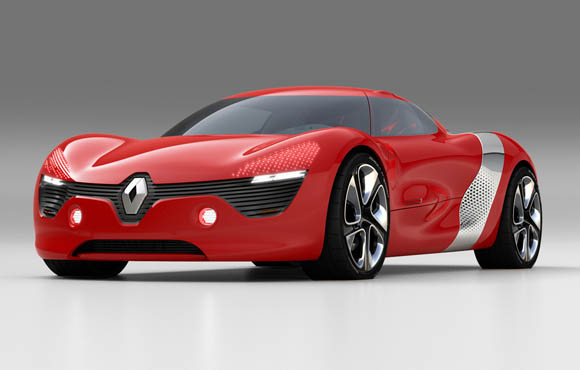 The Renault DeZir, inspired by 'liquid sensation, wave-like movement and contrasts in light'
The all-electric two seater, Renault claims, will accelerate from a standstill to 100kph (62mph) in five seconds and reach a top speed of 180kph (112mph) thanks to a 150hp motor providing 226Nm (166lb-ft) of torque.
Those specs don't match the Tesla Roadster Sport's zero-to-60 acceleration of 3.7 seconds, nor its 288hp and 295lb-ft of torque, but the DeZir is, after all, a Renault.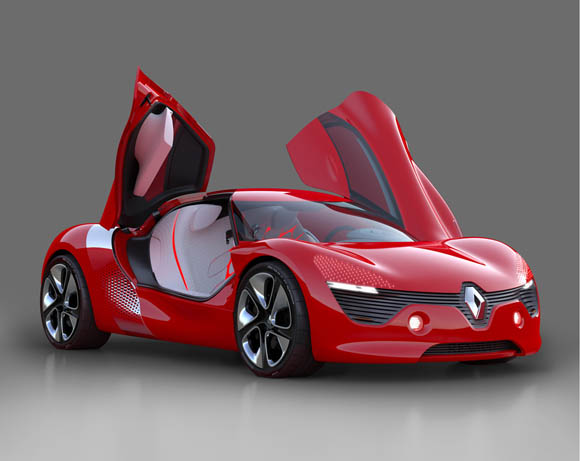 Asymmetrical gull-wing doors — remember this is a concept car, not an exercise in practicality
Renault says the DeZir will have a 160km (100m) range before recharging, a process that will take eight hours when juice is applied "using a conventional household plug". If you have the benefit of a 400V three-phase current line, the DeZir can get to an 80 per cent charge in 20 minutes.
Its Kevlar body houses its motor amidships, and in a break from the standard bucket-style seats in sporty roadsters, driver and passenger can cuddle on a two-person front benchseat that, according to Renault, "provides cocoon-like comfort."
Renault didn't say why it chose this moment to reveal more details about a concept car that it says: "Builds on the bonds that are gradually forged between the brand and its customers at watershed moments of their lives, such as when they fall in love, start to explore the world, found a family, begin to work, take time to play and attain wisdom." Perhaps it wanted to share in some of the 'leccy buzz engendered by Tesla Motors' recent highly successful IPO. ®