This article is more than 1 year old
Cowon iAudio J3 personal media player
A great PMP, remixed
The J3 has most of the other basic PMP bases covered. Playlists can be synched from any MTP media player, or you set up a favourites list on board. You also get stereo Bluetooth, an FM radio, a voice recorder, the option to place multiple bookmarks in both audio and video files, a file browser and DRM support for the likes of BBC's iPlayer.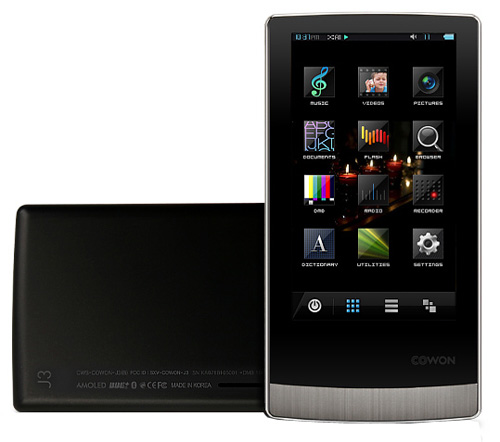 The OLED screen is gorgeous
Of course, Apple can still teach the Koreans a trick or two: the J3 still doesn't support gapless playback.
The longest I managed to get from a full charge of the old S9 was 9 hours 50 minutes of video playback and 45 hours 30 of audio. The J3 trumped both those numbers with 10 hours 30 of video and an impressive 58 hours and 45 minutes of audio.
The 16GB J3 costs £199. Pick up a 16GB Micro SD card for £30 and that makes a 32GB J3 pretty much the exact same price as a 32GB iPod Touch. The Touch does more - internet connectivity, games etc - but the J3 sounds better, is a superior video player and using it doesn't involve fannying about with iTunes, so take your pick.
Verdict
All the core strengths of the Cowon S9 are still in place, including superb sound and excellent video quality, while the addition of a memory expansion slot and improved battery life are very welcome. The wholly unexpected and unheralded appearance of support for H.264 video and AAC audio now makes the J3 one of the best PMPs on the market. ®
Thanks to AdvancedMP3Players for the loan of our review device.
More PMP Reviews

Cowon
iAudio V5
Speedo
Aquabeat
Samsung
YP-R1
Sony Walkman
NWZ-S544

Cowon iAudio J3 personal media player
A great update of a very fine pocket media player.
Price:
£169 (8GB) £199 (16GB) £239 (32GB) RRP