This article is more than 1 year old
Motorola Flipout
Fun phone for Facebookers
Review You can't deny Motorola's creativity – a square phone, huh? And if you find an iPhone just too big, the new Flipout is certainly compact - it's 66mm square - and will fit into the tightest pocket. This means the screen isn't huge, but at 2.8in it's certainly usable.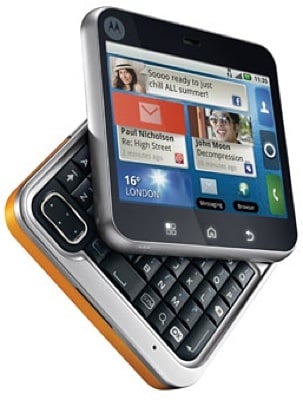 Motorola's Flipout:
Touch the Google Search box on the home screen and a virtual keyboard appears which fills most of the display. But you don't need to do that because if you press your thumb on the bottom corner, the screen swings round to reveal a very usable physical Qwerty keyboard.
The flip action that gives the phone its name is a satisfying mechanism that swings the screen back and forth well. If there's a problem, it's that for a really enjoyable flip, you have to remember to hold the closed phone with the screen in portrait orientation. Then the keyboard is usable when the screen is flipped.
It's a small thing, really. The keys are narrow and tall rather than square, but because each one is shaped like a little barrel, they fall under the thumbs well.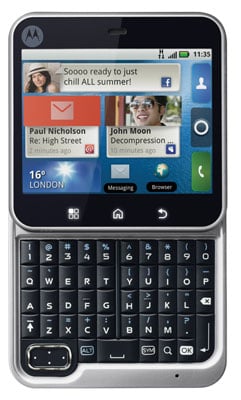 The keys are small but surprisingly useable
Better still, the shape means there's room for five rows of keys where many landscape keyboards on phones make do with four or even three. This means there's a separate numbers row, instead of making you press extra keys to input digits. Excellent. In fact, the only disappointment here is that the navpad at the base of the keyboard is slightly fiddly.