Open...and Shut The desktop is dead. Just ask Microsoft and Apple. Or, better yet, ask Facebook and Google.
Sure, we still use our desktops and laptops, mostly Windows PCs and Macs. What else would we use to draft our faxes? But the industry has moved on, and the petty squabbles over Windows vs. Mac vs. Linux no longer resonate like they once did. The twentieth-century desktop has given way to a new breed of "desktop" platform.
It's called the web. Have you heard of it?
This shift from local bits to web bits derives in part from the market leaders' inability to get excited about their desktop products anymore.
Don't believe me? Think about the last few releases Microsoft and Apple have given us. Microsoft didn't herald Windows 7 as a major breakthrough in computing, but rather sought to placate CIOs with the slogan "This time, Windows actually works!"
Nor is Microsoft alone. Apple's Snow Leopard, released in August 2009, was little more than a service pack for Leopard, released two years previously. Neither release broke significant new ground in computing.
You have to go back to 2005 to find a time when Apple and Microsoft sought to convince the world that they were making waves with their desktop operating system releases. Apple then challenged Microsoft to "start your photocopiers" but the reality is that neither has done much to appreciably push the state of the art in the last several years.
There are rumors that Apple may be set to change this with things like embedded projectors in its Macs, but even these veer toward hardware innovation, not software innovation.
Of course, much of Apple's innovation has moved to iOS, its mobile operating system. Plenty of developers have followed Apple (and Google) to mobile OS development. Android seems to be gaining the upper hand, as the chart below shows, but there's plenty of overlap between the iOS and Android developer communities as you can see from the chart below.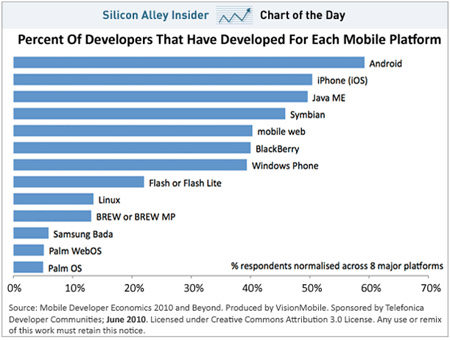 But this detour into mobile OS development is temporary. Longer term, web development will win.
Why? Because the web offers the broadest possible audience for a developer. The web has become more mobile and much more social in the past few years, and points to the next generation of personal computing powerhouses: Google and Facebook.
The two companies increasingly spar over online advertising and social networking, with each encroaching on the other's turf: Google pulling a Facebook with "Google Me" while Facebook potentially offers a more compelling advertising model.
But the feud is felt most poignantly in their recruiting, with Facebook seeming to steal more top-tier talent from Google than the reverse. Most recently, Google's Chrome OS lead, Matthew Papakipos, dropped the search giant for Facebook, perhaps pointing to Facebook's ambitions to broaden its reach as the industry's default web platform.
Apple, though currently on a tear, doesn't make the cut, in large part because its curation model ("Father Jobs knows best") can't scale to meet developers' needs. If Apple must get involved every time a developer wants to create or update an app, it simply won't be able to compete with Google's more open approach.
Apple also limits its developer audience by tying developers to its hardware. No matter how much Steve Jobs may wish otherwise, some hapless souls will buy iPhone alternatives. Developers need to reach these people too.
Meanwhile, Facebook offers developers much more compelling economics, as Gartner points out, which is likely to result in more development moving to Facebook over time.
Importantly, neither Facebook nor Google care which desktop (or mobile) operating system a person is running: they work across disparate platforms. As noted, this gives them the broadest possible audience, both in terms of developers and consumers.
As such, the desktop is increasingly one launch pad among many to Web "operating systems" like Facebook and Google, which don't seem too bothered by OS X, Windows, and Linux relics of a bygone age. They're enabling developers to dis-intermediate the device and write applications directly for the Web.
And that is why they'll win. ®
Matt Asay is chief operating officer of Ubuntu commercial operation Canonical. With more than a decade spent in open source, Asay served as Alfreso's general manager for the Americas and vice president of business development and he helped put Novell on its open-source track. Asay is an emeritus board member of the Open Source Initiative (OSI). His column, Open...and Shut, appears every Friday on The Register..