A Malaysian politician is facing eviction from his party after faking snaps of himself receiving a knighthood, the Telegraph reports.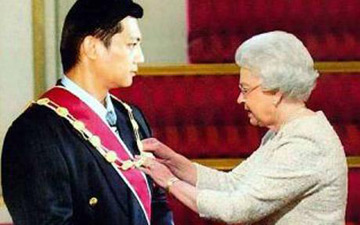 Jeffrey Wong Su En, deputy publicity chief for the Democratic Action Party, applied some top-quality Photoshoppery to show he'd been honoured by no less than Her Maj Liz 2, and became an "overnight celebrity" when he announced the fact.
Sir Jeffrey claimed his date with the Queen was "in recognition of his contribution to aid organisation, Médecins Sans Frontières". However, he didn't fully think through his cunning plan, since "the knighthood investiture ceremonies for the 2010 birthday honours list have not yet taken place".
A spokesperson for the Brit High Commission in Kuala Lumpur set the record straight, clarifying: "We can confirm that we have no record of any honour having been conferred at any time by the British Government on Jeffery Wong Su En."
Furthermore, another snap of Wong displaying a certificate "shows a crest at the top of the certificate claiming to be from Buckingham Palace, with a red seal".
The Telegraph explains: "In fact, warrants for such honours are administered by the Central Chancery of the Orders of Knighthood, which is based at St James's Palace. Mr Wong's certificate bears no resemblance to the Royal warrants used for such honours."
Once the lid was blown on the deception, Wong was questioned by police but released. He then claimed the knighthood was "conferred by Papua New Guinea in conjunction with the Queen's 84th birthday celebrations".
He insisted the relevant paperwork was in the post from PNG, but it seems likely he'll be given his marching orders from the Democratic Action Party.
He bemoaned: "This is a personal matter. It has nothing to do with the public, and it is becoming politicised."
Chin Tek Ming of the rival Barisan Nasional coalition said that if Wong had indeed Photoshopped himself to glory, he'd "insulted a foreign monarch and members of the Commonwealth countries and tarnished the image of Malaysia". ®