A newly-discovered dinosaur has been officially named the "Mojoceratops". Apparently, beer was involved.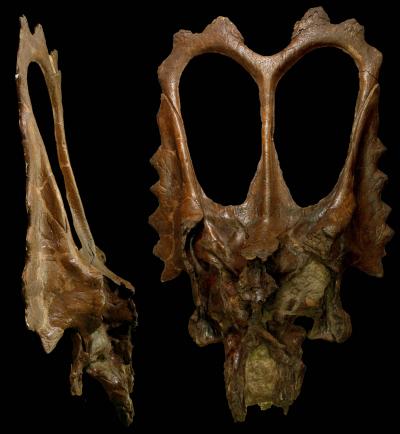 Prehistoric head-frill mojo
The discoverer of the new species is post-doctoral researcher Nicholas Longrich of Yale uni in the States, who found skulls and other evidence of the previously unrecognised species among museum collections.
According to a Yale statement announcing acceptance of the new dino's name:
Over a few beers with fellow paleontologists one night, he blurted out the first thing that came to mind: Mojoceratops.
"It was just a joke, but then everyone stopped and looked at each other and said, 'Wait — that actually sounds cool,' " says Longrich. "I tried to come up with serious names after that, but Mojoceratops just sort of stuck."
Mojoceratops apparently lived about 10 million years earlier than its well-known relative the Triceratops. Its large, "heart shaped" head frill was the inspiration for Longrich's chosen name, which he says is actually quite etymologically appropriate.
"I discovered that 'mojo' is an early 20th-century African-American term meaning a magic charm or talisman, often used to attract members of the opposite sex," he says. "This dinosaur probably used its frill to attract mates, so the name made sense."
The new dino's full name is Mojoceratops perifania, with "perifania" meaning pride in Greek. ("Ceras" is Greek for horn and "ops" Greek for face.) "Mojo" is the only scientifically naughty part of the name, but Longrich stands by it.
"You're supposed to use Latin and Greek names, but this just seemed more fun," he says.
Full details on Mojoceratops can be read in the Journal of Paleontology. ®