This article is more than 1 year old
Waterfall Niagara speakers
How does 25 grand's worth of speaker sound?
It's no surprise that the speakers themselves look absolutely stunning. The subtle tint produced by the 15mm thick glass enclosure instantly caught my eye, and when put under a spotlight the clarity of the material shines through.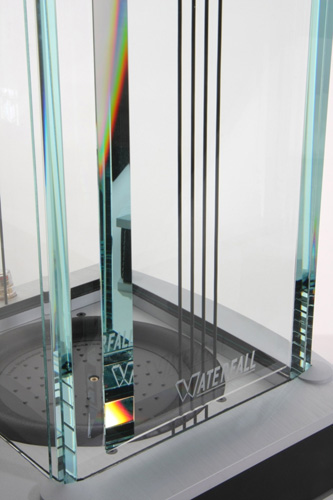 The wiring runs up the inside of the casing from the bass driver
The internal wiring is neatly laid out like a vertical stave from a music score, and there's not a screw or blob of glue in sight.
At the very bottom of each unit sits a downward-facing 200mm passive Atohm bass driver. Travel up the colossal cabinet, which stands 1.2m tall and weighs a whopping 60kg, and you're greeted by pair of 175mm custom-built mid-range Atohm drivers.
At the very top sits a horn tweeter with a frequency range of 1500Hz to 28,000KHz – so as to avoid interference, this section is completely decoupled from the main enclosure and has its own crossover.