This article is more than 1 year old
Waterfall Niagara speakers
How does 25 grand's worth of speaker sound?
Almost as if each instrument was being played through a separate speaker, the audio was totally immersive, and I occasionally had to leave the sweet spot to check it was actually being emitted from the glass-clad Niagaras.
Given the price tag, it would have been woefully disappointing if I could pick up any serious faults in the audio. That said, the bass wasn't quite as thundering as I was hoping for, but given that the 200mm woofer drivers are passive this is no great surprise.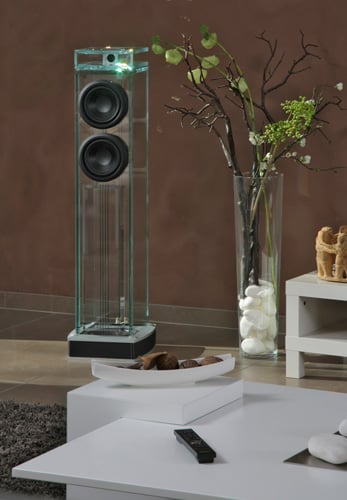 "Your speakers are ready now, Mr Rooney"
If you don't have 25 grand to spare, the more affordable Waterfall Victoria Evos are worth a look. At £2650, they're not exactly cheap, but they do have a similar design – albeit cheapo green glass as opposed to the diamond crystal extravagance on the Niagaras. I had a listen to them while in the showroom and while they didn't have quite the same presence – both visually and audio-wise – they're still extremely impressive.
Assessing the Niagara's value for money is tricky. There's no denying they're expertly made using the highest quality material and produce stunning audio, but does that justify the ungodly price tag? Clearly nobody on a normal wage would ever consider them good value, but if you happen to be an over-paid Premiership prima donna, their sheer 'wow' factor is probably worth that amount alone.
Verdict
Would I recommend you buy them? Well that all depends whether you have an obscene amount of money. If you're prepared to accept that the lion's share of your £25,000 is going on the physical appearance as opposed to the sound quality, you won't be disappointed. Everyone else should look, admire, then walk away and cling on to the theory that the best things in life are free – or at least a little less than £25,000. ®
More Audio Reviews

Arcam
Solo
Mini
Creativ
ZiiSound D5
Cambridge Audio
Azur 650BD
Ten Essential
Travel Speakers

Waterfall Niagara speakers
Bonkers expensive but fantastic sounding made-to-order glass-cased speakers.
Price:
£25,000 per pair RRP