Today's wild-ass rumor: Apple is planning to place a 9cm2 LCD display into, well, nobody knows.
A blog post on the Chinese-language fanboi site Apple.pro entitled "iWatch U !!! ?" is the source of this speculation-inducing tidbit — and we thank MacRumors for starting us off on our hunt to track down the original poster. (If Chinese isn't your strong suit, try the ever-amusing Google translation service.)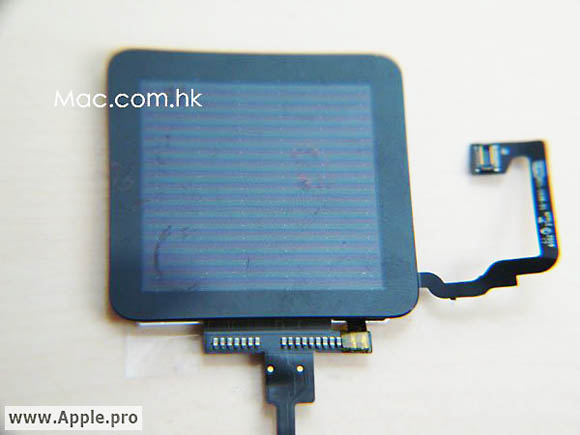 The minuscule mystery display...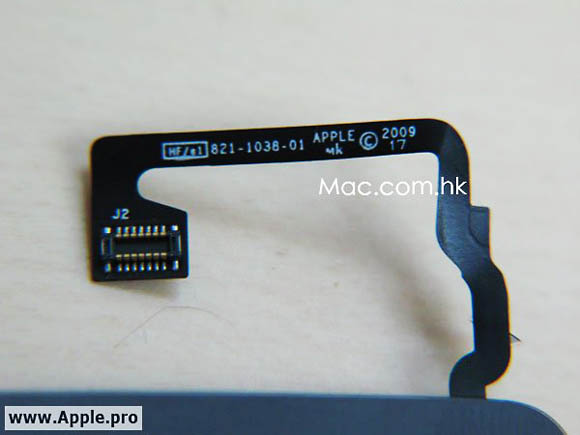 ...with Apple's name on it
Apple.pro makes no direct mention of the diminutive display being a touch screen other than to suggest it might be used in an "iPod Touch nano" of "iPod Touch shuffle".
Using the little fellow in a redesigned nano — at least as a substitute for the current 5.6cm (diagonal), 240-by-376-pixel display — is unlikely, seeing as how that's where the nano displays its minimalist VGA video. But as an additional context-aware touchscreen interface? Hmm... Maybe.
The far-east fanbois also suggest that it might be used in an upgraded iPod shuffle, which is currently sans any display whatsoever — unless you count the fact that the shuffle talks to you as being a display equivalent. They also playfully suggest — as the post's title implies — that the Lilliputian LCD might be used in an "iWatch".
May we join in the speculation? Thank you. How about installing it in an upgraded keyboard, where it could be a context-aware or user-definable hotkey for launching apps, controlling media, displaying system stats, flicking through slideshows of the kids, or the like — sort of like a not-butt-ugly Logitech G15 Gaming Keyboard.
Or maybe it could sit on the outside of a MacBook lid, where — when the MacBook is closed — it could display various system parameters, a clock, battery condition, or even email subject lines as messages arrive.
What's your bright idea for how this component might be used? ®
Bootnote
When introducing the tiny display, Apple.pro, according to Google Translate, cryptically wrote: "It is coming from deep inside the throat (code A08)." Hoping that code would give us a clue as to the identity of the website's sources, we went to Google, where we discovered that "code A08" means either an anatomical therapeutic chemical designation relating to antiobesity preparations (excluding diet products), a silver metallic BMW paint color, or an error code indicating a short or open cicuit in the auxiliary wash motor's triode for alternating current in an Indesit dishwasher. Not helpful.